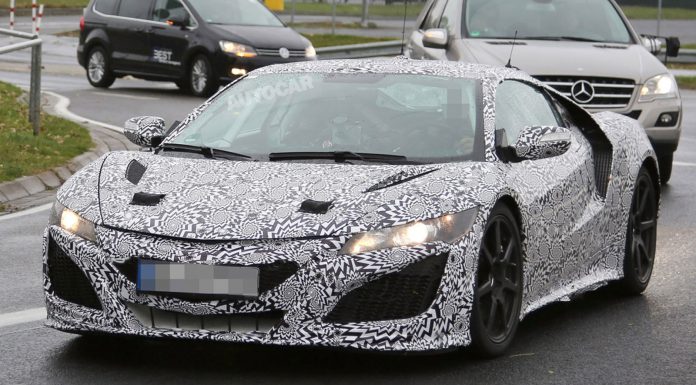 Just after a new video was posted online showing the 2015 Honda NSX undergoing more tests at Germany's Nurburgring, additional spy pictures of the same test mule have emerged online. When seeing the car up close, it is obvious that it will look very similar to the most recent Honda NSX Concept car in 2012.
Unlike previous prototypes, this particular one is sporting new air vents on the bonnet as well as a revised lower front grille. Beyond those changes, everything appears the same despite the heavy camouflage covering the nearly-completed Japanese sports car.
The final details about the engine of the next-gen NSX have yet to be confirmed, but what has been confirmed is that the 2015 Honda NSX will utilise a twin-turbocharged V6 engine displacing either 3.5-liters or 3.7-liters. Unsurprisingly, this new engine will be completely unique to the upcoming NSX and should deliver around 400 hp of its own accord.
Joining the twin-turbocharged V6 engine will be three electric motors. In this system, one electric motor is mounted at each front wheel while the third is integrated into the engine and helps drive the rear wheels. These motors are powered by a lithium-ion battery recharged thanks to regenerative braking.
When the new NSX hits the market, Honda hopes that it will provide Ferrari 458 Italia levels of performance but for the price of the Audi R8. It will reportedly debut in production-guise at the Detroit Motor Show 2015 at the start of January.
[Via Autocar]