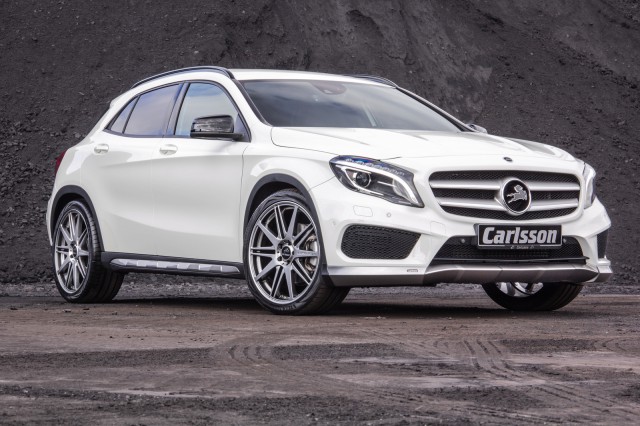 Having tweaked and fettled essentially all products from Mercedes-Benz in the past, Carlsson certainly knows its way around the German automaker's latest products. While Carlsson is inevitably trying to get their hands on a very early example of the Mercedes-AMG GT and the new C63, the tuner has released its comprehensive selection of upgrades for the Mercedes-Benz GLA.
At the front, Carlsson's new bodykit sees the addition of a thoroughly revised front grille incorporating Carlsson's logo, new side skirts, a lower front splitter, chrome oval tailpipes as well as a subtle rear diffuser. Elsewhere, a selection of wheels measuring either 18-inch, 20-inch or 21-inch are available with 265/30 tyres at all four corners.
In the cabin, the tuner offers its Signature Line of leather for a range of interior surfaces. Additionally, the scuff plates have been customised by Carlsson with aluminium pedal caps also offered alongside aluminium door lock pins.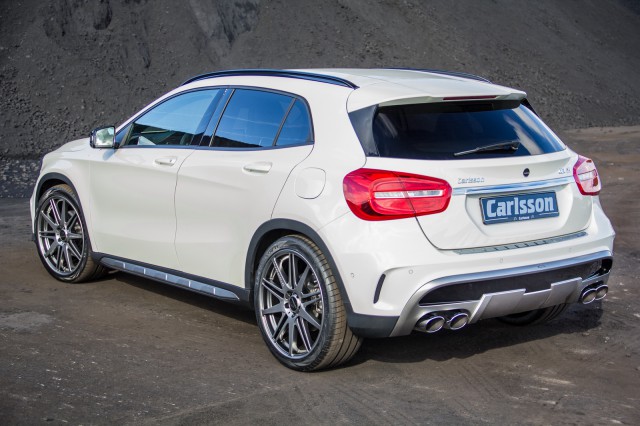 From a performance standpoint, Carlsson provides upgrades for both the Mercedes-Benz GLA200 and the GLA250. The former typically delivers 156 hp and 185 lb-ft of torque but thanks to Carlsson's tuning, now pumps out 187 hp and 221 lb-ft. Finally, the GLA250 has been upgraded from 211 hp to 253 hp and 310 lb-ft from 258 lb-ft.