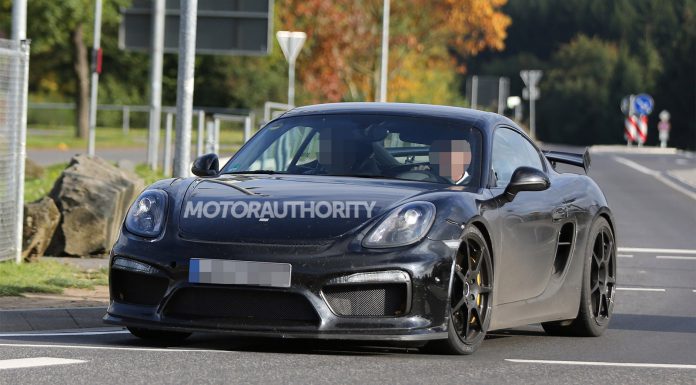 Despite numerous prototypes being spied in recent months, Porsche hasn't actually confirmed the existence of an extreme road-going variant of the Cayman currently known as the GT4. However, the website of the Porsche North American Driving Experiences program recently added the option of driving the Cayman GT4.
Of course, the Porsche Cayman GT4 is quite some time away from reaching production and actually being offered in the Driving Experience program but the fact that the option was listed on the website and swiftly removed indicates the company wasn't quite ready to confirm the car. Nevertheless, we now know for certain it is on its way and will be dubbed the Cayman GT4 as rumoured suggested.
As for the car, reports claim that the Porsche Cayman GT4 will use the company's 3.8-litre twin-turbocharged boxer six engine. It will reportedly be tuned into the region of 450 hp and will therefore comfortably sit above the current range-topping Cayman GTS. Beyond featuring a more powerful engine, the Cayman GT4 will make use of a stripped-down interior to help save on weight.
From a visual standpoint, the Cayman GT4 will also see aerodynamic improvements over current Cayman variants offered. It will utilise a modified front bumper with a new splitter and larger air intakes as well as new wheels, a functional rear diffuser and a huge rear wing. It will also utilise a new dual exhaust system and feature beefed up brakes and hardcore track-tuned suspension.
[Via Planet-9, Picture via Motor Authority]