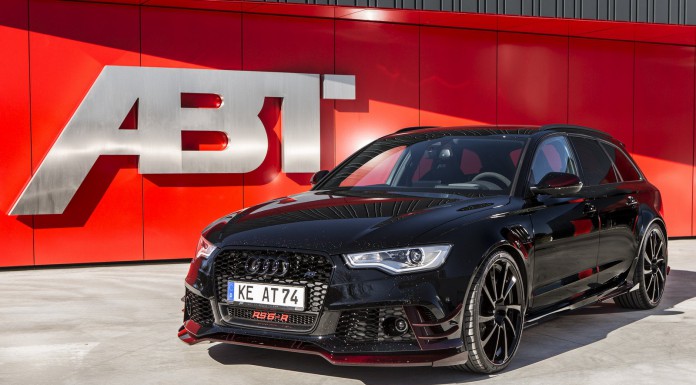 Very few would argue with the fact that the stock Audi RS6 Avant is an absolutely incredible performance machine perfectly combining practicality. If you're ABT Sportsline however, even the very best Audi products can be improved from both a visual and performance standpoint.
[youtube]http://www.youtube.com/watch?v=uatnkNrUIBM[/youtube]
Earlier this year, the German tuner revealed its ABT Audi RS6-R and has now released the official video for the potently tuned car.
As a reminder, the ABT Audi RS6-R gets a power boost applied to the 4.0 litre V8 engine. ABT fit a 730 hp power upgrade, up from the standard 560 hp. Torque rises from 700 Nm up to 920 Nm. The ABT Audi RS6-R will now hit 320 km/h. The extra performance comes courtesy of an ABT Engine Control unit, specially developed software and a specially adapted stainless steel exhaust system – including a Y-pipe and sport-type catalytic converter.
Selected parts of the bodywork have been constructed from an exposed red carbon fibre. They include the front lip with its side blades, the air inlet covers including flics, the side skirt attachments with side blades and the rear skirt. The mirror caps, fender inserts and a rear spoiler complete the imposing look.