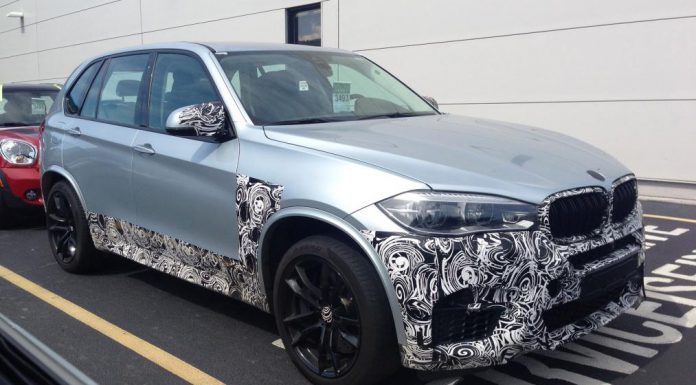 Just yesterday, BMW released a teaser video of the new facelifted BMW X5 M and X6 M. Now new spyshots of the upcoming X5 M have emerged with this particular prototype ditching quite a lot of its camouflage.
As the light blue prototype shows, the new X5 M will be easy to distinguish from more run-of-the-mill X5 variants. What this means is that it will be fitted with a new front bumper, the same new headlights as the facelifted X5 range, extended side skirts, slightly flared wheel arches and extended side skirts.
Elsewhere, a blacked out kidney grille will complete the front-end changes. At the rear, the car features quad tailpipes and a different rear bumper. Finally, there are new lightweight black allow wheels as well as beefed up brakes.
Both the new X6 M and X5 M will use the same 4.4-liter twin-turbo V8 engine of the outgoing cars. In current tune, that engine pumps out 547 hp at 6000 rpm and 500 lb-ft of torque. However, we can expect to see some slight power gains for the latest models.
Thanks to the new platform underpinning the facelifted cars as well as aluminium and composite materials used for many of the body panels, they will weigh less than their respective outgoing models. Additionally, the current 6-speed automatic gearbox could be replaced with a dual-clutch 7-speed or even an 8-speed.
The new BMW X5 M will be unveiled at the Los Angeles Auto Show 2014 next year.
[Via Auto Express]