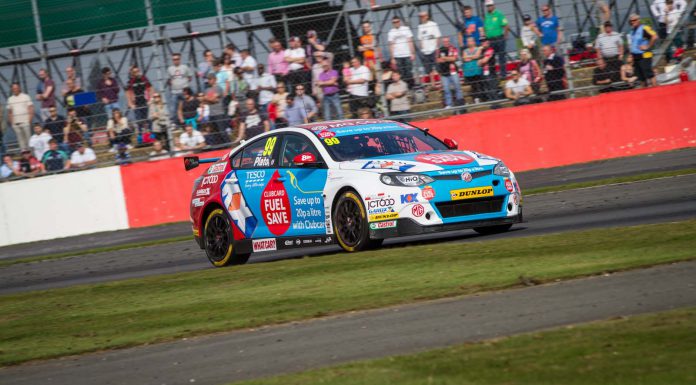 The penultimate round of the BTCC took place 27-28 September at Silverstone. The focus this weekend was on Jason Plato who took pole position and Colin Turkington as the two contenders for the 2014 BTCC Championship title. Jason Plato entered the weekend with the sole intention of securing as many wins as possible to ensure that MG win the Manufacturers title.
Jason Plato took the first two wins of the weekend in his MG while Colin Turkington took second in these races to help maintain his championship lead. In Race one, Matt Jackson in the Motorbase Ford Focus took third and in race two Alain Menu took third in his Team BMR VW Passat.
The final race of the weekend saw the reversed grid and the win was taken by Mat Jackson while second came Aron Smith and Championship leader Colin Jackson in third. The start of race three saw Sam Tordoff's MG bellow out smoke and he was unable to start off the line and began dropping oil onto the track. The race was cut short as the drivers were to complete another warm up lap and wait on the grid until the track marshalls had cleared the oil.
The second race was filled with drama when the Crabbies sponsored Motorbase Ford Focus was involved in a collision and caught the back of eBay Motors BMW driven by Rob Collard. The BMW rolled several times after the collision and the race was red flagged with only one lap of race distance to go. Collard was taken to hospital for precautionary checks but thankfully he didn't suffer any serious injuries.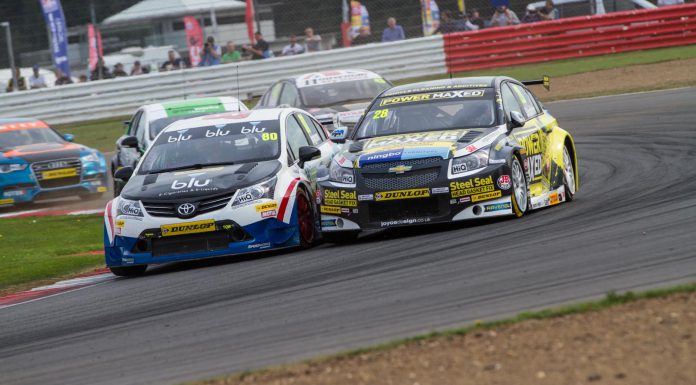 After the race, Jason Plato said, "I've been in a fighting mood today and it was great to take those two wins. It got a bit saucy in race three today but it was a really great battle! I had to look after the soft tyres to begin with but when I saw it getting feisty up ahead I decided it was time to go for it. As it all kicked off into Maggots/Becketts I got a good run on Colin but I just couldn't get enough of an overlap. Looking ahead our focus now is to win the Manufacturers' title for MG and that means that both myself and Sam have to finish all three races at Brands Hatch. I'm going to go out there and try and win more races, but realistically the gap in the Drivers' standings is too big."
Colin Turkington also commented, "As we all thought it's going to go down to the wire! I managed to get three strong finishes today which is exactly what we needed to do. While races one and two were clean it was a real battle in race three from start to finish. I had the pace to get past Giovanardi but he drove a good defensive race and where I was strong he made sure there was no way through. Then it all started kicking off into Becketts – I was trying to give everyone a wide berth but there was still some contact. I was so pleased to get the eBay BMW across the line, especially ahead of Jason! We've put ourselves in the best possible position going into Brands, we just need another weekend like this one where things go our way."
Our Photographer Steven Roe attended the event and we have included his images from the weekend.