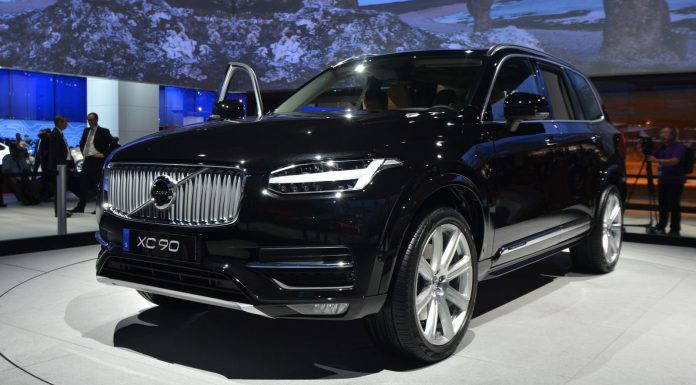 The latest-generation 2016 Volvo XC90 is currently celebrating its world debut at the Paris Motor Show 2014. As just the second-generation of the XC90 which has been in production since 2002, the new model is well overdue and promises to be one of the very best SUVs currently on the market. We went for a close look at the Volvo booth.
Underpinning the 2016 Volvo XC90 is the new SPA platform. This scalable platform will be used by a selection of other Volvo models in the future and compared to the outgoing one, is lighter as well as stronger. Additionally, the SPA platform provides extra space for rear passengers.
A selection of 2.0-litre four-cylinder engines are now the only available engines. They include a twin-turbocharged diesel unit delivering 222 hp as well as a turbo and supercharged petrol powertrain delivering a total of 316 hp. At the top of the range is a plug-in hybrid model which utilises the aforementioned 2.0-litre petrol engine with an electric motor to deliver a total of 390 hp. It emits just 60 g/km of CO2 emissions. By comparison, the Porsche Cayenne S E-Hybrid emits 79 g/km.
One of the really cool features of the new Volvo XC90 is that it utilises a run-off road protection package which tightens the seatbelts while also enabling energy-absorbing technology when difficult road conditions are detected ahead. The new XC90 also makes use of auto-braking tech. By 2020, Volvo hopes that nobody will be killed or seriously injured in any of its new cars.
The 2016 Volvo XC90 will initially be available in a selection of First Edition models. In total, 1927 Volvo XC90 First Editions will be created with customers having the chance to choose between the 222 hp diesel engine or the 316 hp petrol.