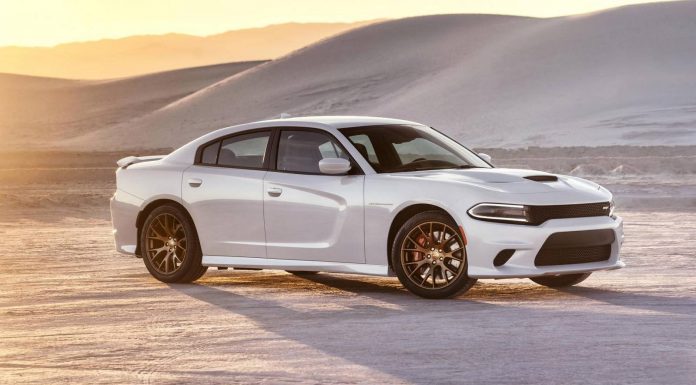 Just a couple of months ago, the 2015 Dodge Charger SRT Hellcat was revealed. Powered by the same screaming 707 hp 6.2-litre supercharged V8 as the Challenger SRT Hellcat, this ultimate Charger variant is the world's most powerful production sedan. Now it has emerged that when equipped with drag radial tyres, the Charger SRT Hellcat is also comfortably the fastest sedan on the market.
On street-legal tyres, Dodge claims the Charger SRT Hellcat hits 96 km/h (60 mph) in just 3.7 seconds. By comparison, the Challenger SRT completes the same sprint in 3.5 seconds when equipped with the eight speed automatic transmission. When equipped with drag tyres however, the Charger is actually faster than the Challenger on equivalent tyres according to Torque News.
Apparently the Charger SRT Hellcat has clocked a 2.9 second sprint time from 0-96 km/h and runs the quarter mile in just 10.7 seconds. While it remains unclear if these tyres are street legal, early indications are suggesting that they are.
On stock tyres, we know that the 2015 Dodge Challenger SRT Hellcat completes the quarter mile in 11 seconds flat and can reach a top speed of 328 km/h (204 mph). It is quite easily the world's most powerful production sedan taking the crown from the 625 hp Mercedes-Benz S65 AMG. It will also go from a standstill to 160 km/h back to zero in under 13 seconds.
The aforementioned eight-speed transmission is the TorqueFlite heavy duty unit with it capable of performing 160 millisecond shifts with rev-matching. Braking is provided by the largest brakes ever offered by the Chrysler Group and the same as those from the Challenger with 15.4 Brembo two-piece rotors at the front with six-piston calipers.
[Via Torque News]