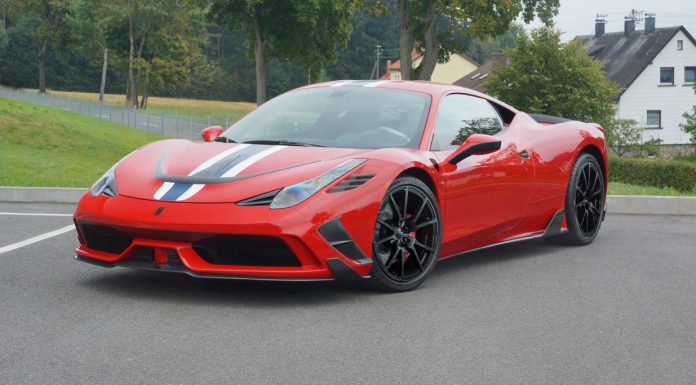 Tuner Mansory has just revealed its carbon fibre aerodynamic programme for the Ferrari 458 Speciale and previewed the changes with the following two photos. Generally speaking, the Mansory upgrades add a further sense of aggression and purpose to the track-focused 458.
As we've come to expect from Mansory, it has left no stone unturned and consequently offers a selection of new add-on parts for the Ferrari 458 Speciale. These include a new front splitter, revised air intakes, tweaked side skirts, a subtle bootlid lip spoiler, an ultra-aggressive rear diffuser and a new rear bumper design.
It remains to be seen if Mansory is planning on creating an entirely new model based around the 458 Speciale similar to what it has done with the 'regular' 458 Italia and turning it into the Siracusa.
As a result of this, Mansory have yet to tinker with the 458 Speciale's engine. In stock form, the car's 4.5-litre V8 engine delivers a total of 597 hp and 398 lb-ft of torque thus making it the most powerful naturally aspirated V8 engine ever produced by Ferrari. What's more, Ferrari claims that thanks to it delivering 133 hp per litre, it has the highest ever per litre output of a road-going naturally aspirated engine. Maximum power is achieved at 9000 rpm while max torque is reached at 6000 rpm.
The Ferrari 458 Speciale tips the scales at just 1290 kg and Ferrari consequently claims a sprint time to 100 km/h in just 3 seconds and the car can then hit 200 km/h in just 9.1 seconds. What's more, Ferrari claims that the Ferrari 458 Speciale can sprint around the Fiorano test track in just 1:23.5 seconds thus making it 1.5 seconds faster than the standard car and just .5 seconds slower than the Ferrari F12 Berlinetta.