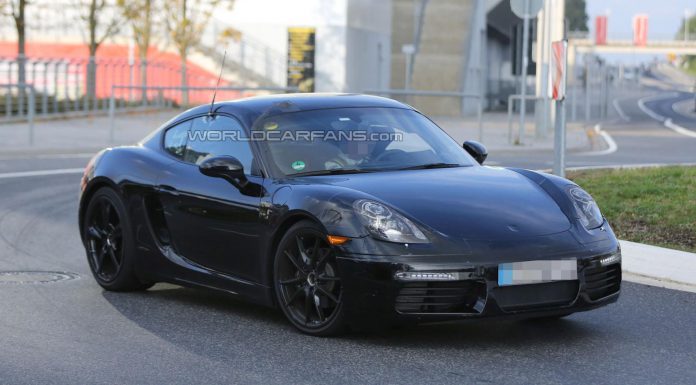 Not long after a prototype for the facelifted Porsche Boxster was spied testing, its hardtop brother, the Cayman has also been snapped during preliminary testing in facelifted guise.
Despite the presence of some black camouflage, some design changes are immediately noticeable. These include tweaked headlights, LED daytime running lights as well as a revised rear bumper. Additionally, this prototype was sporting a revised bumper at the rear alongside a new and improved diffuser. The styling changes have been completed with a new pair of wing mirrors.
From a powertrain standpoint, we expect the facelifted Porsche Boxster and Cayman duo to remain essentially identical to the current cars. Things will really get interesting when the next-generation Boxster and Cayman hit the market as they will introduce a new line of four-cylinder engines.
One key reason why the new Boxster and Cayman will adopt four-cylinder engines is to reduce the firm's CO2 emissions. While Porsche fanatics may be disappointed that four-cylinder engines will be used in the next Cayman and Boxster Porsche boss Matthias Muller recently said that this smaller engine will be able to deliver up to 395 hp thanks largely to the forced induction! Of course, this new turbocharged flat-four will sound significantly different than the current 3.4-liter flat-six naturally aspirated engine, but the extra power and extra speed of the next-gen Boxster and Cayman will definitely offset any possible sound deficits.
[Via World Car Fans]