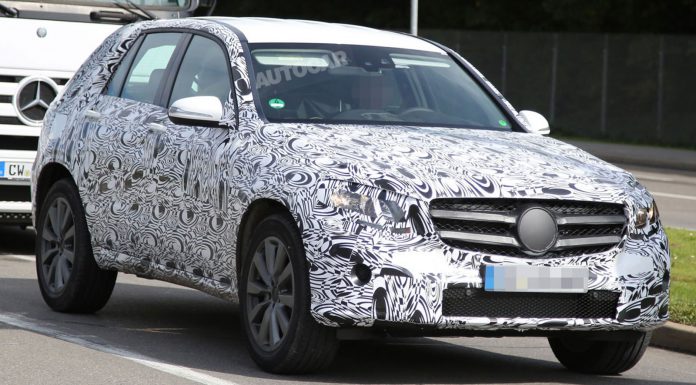 New spyshots of the upcoming, next-generation Mercedes-Benz GLK SUV have emerged ahead of its expected launch next year.
One of the most prominent changes of the new GLK is that it will be instead dubbed the GLC as part of a name shakeup among Mercedes-Benz SUVs. The new GLC will ultimately rival the recently revealed Land Rover Discovery Sport, Audi Q5 and BMW M3.
The next-generation Mercedes-Benz GLC will use a similar modular platform to the existing C-Class with it available in both right hand drive and left hand drive.
When discussing this with Autocar recently, a Mercedes-Benz official said, "With the adoption of the new platform we will be able to offer both formats. The second-generation model will be a central pillar in our plans to increase worldwide sales, particularly in right-hand-drive markets that have so far been denied to the GLK."
We expect a similar selection of GLC-Class variants to be offered for the new model as they are the existing car. The most pivotal change will be the inclusion of a GLC63 AMG model into the range.
Under the hood, the 2016 Mercedes-Benz GLC63 AMG will utilise the firm's new 4.0-litre twin-turbo V8 engine underpinning the Mercedes-AMG GT and brand new AMG C63. Dubbed the M178, this engine will replace the current twin-turbocharged 5.5-litre V8 used by much of the AMG range.
[Via Autocar]