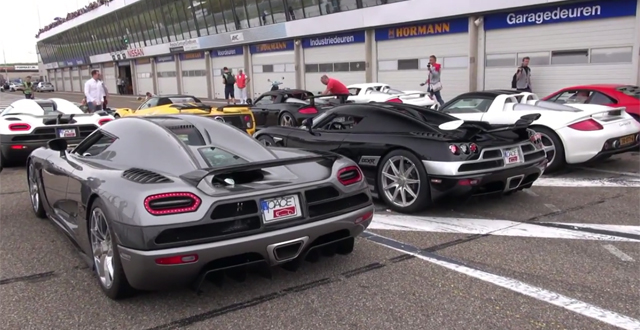 Yesterday we brought you some incredible pictures from the latest Supercar Sunday event held in the Netherlands. Now the first videos of the truly astonishing gathering have begun to filter online and the lineup really has to be seen to be believed!
[youtube]https://www.youtube.com/watch?v=_TMR5LEz1_k#t=424[/youtube]
Pace Germany, an official Koenigsegg dealership brought along two CCXRs, an Agera R and an Agera S. Elsewhere, four Porsche Carrera GTs were in attendance as were two 918 Spyders. Further supercars attending Supercar Sunday this past week were a Ferrari F40, Pagani Zonda S, Verde Ithaca Lamborghini Aventador Roadster and many more!
[youtube]https://www.youtube.com/watch?v=O4L3Am_s4z8#t=22[/youtube]