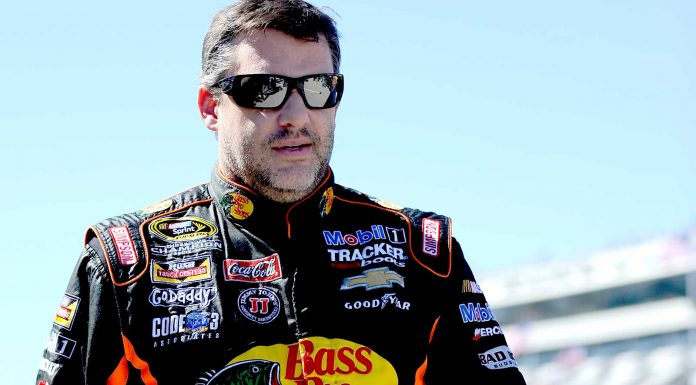 20-year-old sprint car racer Kevin Ward Jr has been killed at the Canandaigua Motorsports Park in Canandaigua, N.Y. after he was hit by Nascar driver Tony Stewart also taking part in the race. In the incident, Stewart's car made contact with Ward's car sending Ward into the wall after several spins. Ward came out of his car where he would then dash into the track mid-race, showing his disappointment towards Stewart.
Several cars missed him narrowly, the race was cautioned and Ward was then hit and run over by Stewart's car. He was stuck for a while before he was thrown at about 50 yards. Charlotte Observer's Jim Utter reported that Ward was pronounced dead on arrival at the local hospital.
Viewer discretion is advised
[youtube]http://www.youtube.com/watch?v=IdNPj-pNUh0[/youtube]
Tyler Graves a fellow race driver and a friend to Ward told The Sporting News, "Tony pinched him into the frontstretch wall, a racing thing," said Graves, 16, of Bolivar, N.Y. "The right rear tire went down, he spun on the exit of (Turn) 2. They threw the caution and everything was toned down. Kevin got out of his car. … He was throwing his arms up all over the place at Tony for most of the corner.
"I know Tony could see him. I know how you can see out of these cars. When Tony got close to him, he hit the throttle. When you hit a throttle on a sprint car, the car sets sideways. It set sideways, the right rear tire hit Kevin, Kevin was sucked underneath and was stuck under it for a second or two and then it threw him about 50 yards."
Adam Dulski, another Witness told USA Today, "It happened in Turn 2. The prior lap, Tony had gotten into him — just spun him, nothing big, just spun him around. The caution came out. He hopped out of the car — the driver of the 13. He hopped out to go and yell and point a finger at Tony, typical thing.
"Tony came around, the back end slid out and he definitely caught him — I couldn't tell if it was with the front or the back of the car. The body made contact with the car and went sliding across the track. It was the worst thing I've ever seen."
[Note: Tony Stewart pictured]
[Via Baltimore Sun]