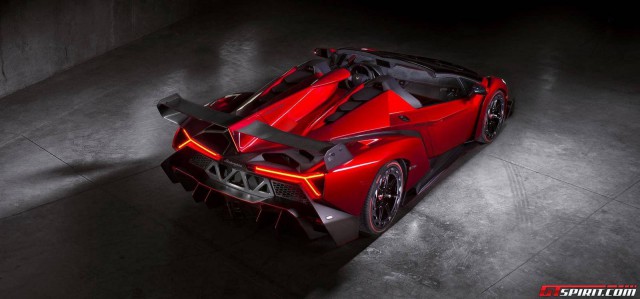 With just nine examples being created, the Lamborghini Veneno Roadster will be extremely rare. As a result, each owner has to cough up $4.4 million for the privilege of owning the drop-top Veneno. However, a dealership in German is claiming to have the ninth and final Veneno Roadster up for sale and they haven't been scared to up the price a bit.
As a matter of fact, they are asking for 5.69 million euros including the 19 per cent VAT tax. Translated to U.S dollars, that's about $7.6 million, well over the original asking price! Understandably, we are a little bit sceptical about the sale particularly because no specific details about the car are offered and no real images have been posted either.
Either way, you're probably wondering what you get for the money. Well, the package is very similar to the Veneno which itself, takes inspiration from the Aventador. The engine is the Aventador's new 6.5 litre V12 unit, uprated to 750 hp in the Veneno Roadster. Power is driven through an all-wheel drive system via a modified ISR transmission. Five settings are available with pushrod suspension and horizontal sprint/damper units.
The Lamborghini Veneno Roadster is technically advanced. It features a monocoque made from carbon-fiber reinforced polymer. All body components are also CFRP making it extremely lightweight. It is compliant with all road safety regimes worldwide and features a full raft of safety features from airbags through to adapted ESP handling system.
[Via Mobile]