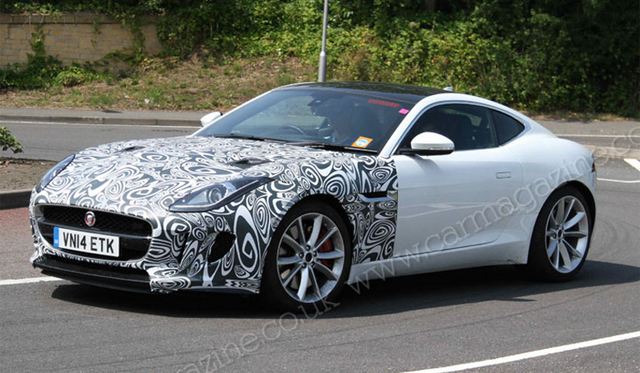 An upcoming Jaguar F-Type variant believed to be of the upcoming all-wheel drive variant has been spied testing out on the roads near the British firm's research and development base in Gaydon.
Jaguar will introduce the four-wheel drive F-Type to help rival all-wheel drive sports cars from rivals like Audi, BMW and of course Mercedes-Benz. Beyond the F-Type, numerous other Jaguar models beyond the XF and XJ are expected to be available with all-wheel drive with a launch of 2015 most likely.
Jaguar believes that there is significant demand for all-wheel drive sports cars in areas like North American and Alpine Europe to ensure they are usable all year around.
Differentiating this prototype from the road-going Jaguar F-Type is the appearance of a higher bonnet line. This suggests that new driveshafts and a differential have made engineers slightly raise the bonnet.
It is likely that the all-wheel drive Jaguar F-Type will feature a similar setup to the XF and XJ. In these models, a transfer case is utilised next to the gearbox to send part of the drive to the front wheels. Torque is then split between the wheels.
At this stage, it is speculated that the Jaguar F-Type will debut at the Los Angeles Motor Show 2014 in November to appeal to the large U.S. market.
[Via Car Magazine]