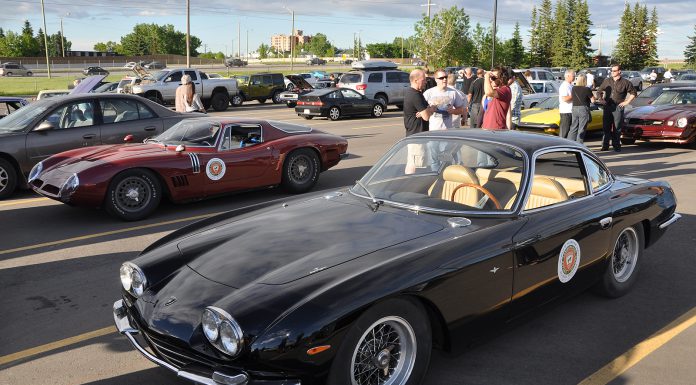 A recent visit to the Wild Wednesdays weekly show & shine in Calgary, Canada, saw two rare treasures make an appearance. Local car collector, Fred Phillips, has been busy over the winter, and has acquired ten new vehicles, including these two gems.
When we saw the black 1966 Lamborghini 350 GT Superleggera pull into the parking lot, we knew it had to be Phillips behind the wheel. Fred Phillips collects all sorts of cars ranging from muscle cars to rare Italian exotics, and this is undoubtedly one of the more rarer cars in his collection.
Approximately 120 of the V12-propelled, tube-framed, aluminum-bodied cars were ever built. With 280 hp, they are capable of speeds in excess of 150 mph. The body design of this 350GT originated at Lamborghini but was refined by the stylist at Touring in Milan.
Arriving right behind the rare 350GT was an unrestored 1966 Bizzarrini GT Strada, a welcome sight at the show 7 shine venue. Phillips likes to keep his cars in their original condition, not restoring his cars unless necessary.
Giotto Bizzarrini, designer of the Ferrari 250 GTO and Testa Rossa, designed the GT Strada with the necessary elements for success: the stout, reliable and easily-tuned Chevrolet small-block V8 engine and 4-speed gearbox from the Corvette, a welded-sheet platform frame, sophisticated suspension and a svelte and aerodynamic body.
Fred Phillips offers tours of his car collection, with donations collected at the end of his tours going to charity.