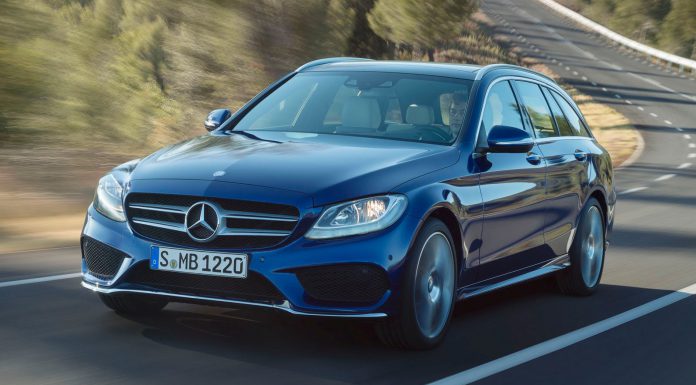 The wraps have been officially taken off the long-awaited 2015 Mercedes-Benz C-Class Estate. In recent months, the new C-Class Estate has become one of the most eagerly anticipated new cars to launch all year and has been spied testing on multiple occasions.
As the name implies, the C-Class Estate is just that; an estate variant of the C-Class and is the fourth generation C-Class Estate produced. It measures 96 mm longer than the standard C-Class sedan, totalling 4702 mm long with the wheelbase being extended up 80 mm to 2840 mm. Additionally, the car is 40 mm wider than the sedan. Thanks to these larger proportions, passengers at the rear have 45 mm of additional legroom as well as more headroom.
Compared to the previous generation Mercedes-Benz C-Class Estate, the new one supports 490 litres of storage space with the rear seats up and 1510 litres with them down. This represents a 5 litre and 10 litre increase in space respectively. Alongside the additional storage space, practicality has further been increased in the 2015 Mercedes-Benz C-Class Estate with more versatile rear seats which can be folded in a 40/20/40 split.
Aluminium makes up about 50 per cent of the body of the new C-Class Estate. The aluminium and steel construction underpinning the C-Class Estate is particularly noteworthy because steel and aluminium cannot be welded together. Instead, Mercedes-Benz has been the first company to employ the ImpAcT joining process where the steel and aluminium body panels are joined through injected elements.
A host of engines are available for the new C-Class Estate including a 2.0-litre four-cylinder petrol engine delivering 179 hp. Next up is a 2.1-litre four-cylinder turbodiesel engine delivering 168 hp for the C220 Bluetec while the C250 Bluetec produces 201 hp. Further down the road, a host of six cylinder and hybrid models will be made available. As standard, the C-Class Estate is rear-wheel drive but will be available as an all-wheel drive in some markets.
The 2015 Mercedes-Benz C-Class Estate will go on sale in the U.K. in late September and cost approximately 1200 pounds more than the equivalent sedan.