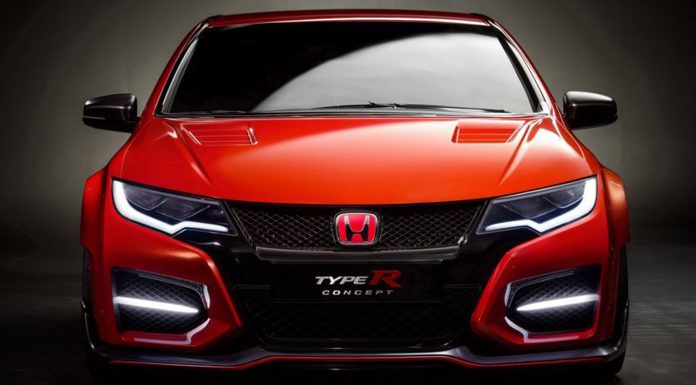 Honda is set to bring two extremely eye-catching concept cars to next month's Goodwood Festival of Speed 2014. The first will be the latest 2015 Honda NSX concept as well as the Honda Civic Type R Concept which will celebrate its first public outing since the Geneva Motor Show 2014.
Visually, the Honda Civic Type R Concept is about aggressive as a hot hatch can be. At the front, it features the same standard design as the standard Honda Civic, however, includes brand new LED headlights, a black panel below the front grille as well as a large splitter stretching around to the front tyres. The car also features new sports wheels, new wing mirror caps and side skirts.
The most prominent change at the back of the concept compared to previous prototypes is a futuristic taillights design stretching along the massive rear wing. Additionally, the car features widened wheel arches up front and at the rear as well as an aggressive rear diffuser and quad exhaust pipes.
When it hits the market, the latest Civic Type is pinned to deliver over 300 hp.
As for the new NSX, final details about the engine have yet to be confirmed, but what has been confirmed is that the 2015 Honda NSX will utilise a twin-turbocharged V6 engine displacing either 3.5-liters or 3.7-liters. Unsurprisingly, this new engine will be completely unique to the upcoming NSX and could easily deliver enough power to rival cars such as the McLaren 12C and the Ferrari 458 Italia.