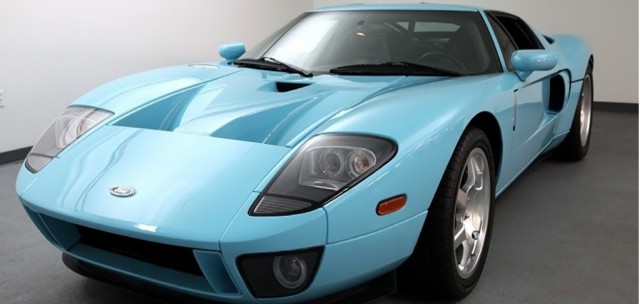 As is the case with all supercars, a host of prototypes are created to test out every single component of the car before custom deliveries begin. Often these prototypes remain locked out by the manufacturer but once development of the Ford GT was complete, Ford offered one of its prototypes, the PB1-3 for sale.
The 2005 model year Ford GT prototype was ultimately purchased by none other than Steve Saleen. Now the Ford GT PB1-3 prototype is back up for sale courtesy of AutoPalace in the United States.
Without a doubt the most unique feature of this Ford GT is its paint job. It is finished in Heritage Blue without the racing stripes of almost all other GTs. This prototype was used primarily for durability and weather testing and alongside the bright paint job, features a custom exhaust with racing headers, a kill switch, pre-production transmission and arguably most importantly, a detailed history record owned from Steve Saleen himself.
Under the hood, it is powered by the 5.4-liter supercharged V8 engine which powered all of the other 4,083 GTs destined for road use. This powerplant delivers 550 hp at 6500 rpm and 500 lb-ft of torque at 3750 rpm. Consequently, it can hit 100 km/h in under 4 seconds.
The asking price for this unique example is $399,988.
[Via duPont Registry]