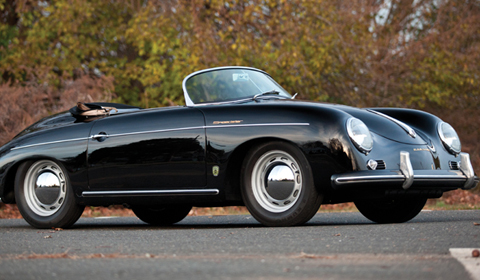 A very unique and rare black Porsche 356 Speedster is set to go under the hammer in January by RM Auctions as part of its Arizona sale. The car is one of just 1,233 units which ever made it to U.S. shores out of the 4,144 examples made, and is expected to fetch between $160,000 and $200,000.
Originally designed by Ferry Porsche in 1948, the Porsche 356 Speedster went onto become one of the company's most successful race-winning sports cars, taking numerous racing, hillclimb and rally trophies including 1st place in its class at Le Mans in 1951.
This particular unit is in pristine conditions and was recently fitted with a new removable fabric roof, side curtains and carpeting while the engine has remained untouched and in immaculate original condition.
When the 356 Speedster originally went on sale in the US, it had a base price of less than $3,000 and the jump to $200,000 makes it even more expensive and sought after than the Porsche 911 Turbo S or 911 GT2 RS.