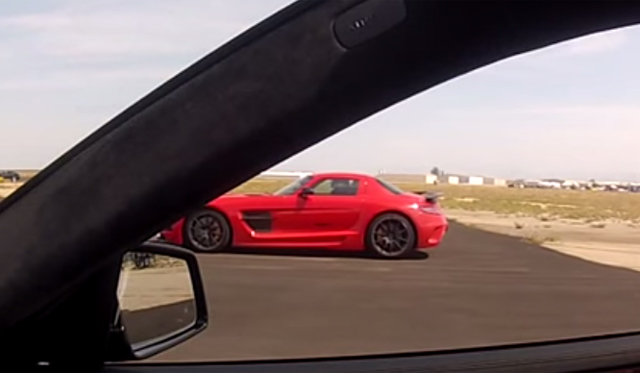 We recently brought you footage of an utterly insane, bright red Mercedes-Benz SLS AMG Black Series by Weistec revving and accelerating ferociously. Now we've got a new video of that very same SLS AMG Black Series racing a potent Mercedes-Benz E 63 AMG by Renntech.
[youtube]https://www.youtube.com/watch?v=_qiRXByUoS0[/youtube]
Whereas this SLS Black features a complete Weistec ECU tune as well as a set of custom longtube headers, this E 63 AMG has received even more modifications. Renntech have tuned the massive 5.5-liter biturbo V8 thanks to an ECU tune, BMC sport air filters and RADO downpipes. As a result, the car delivers a total of 630 hp and 735 lb-ft of torque.
Of course, the E 63 AMG weighs significantly more than the SLS AMG Black Series by Weistec, so how will the two compare in a rolling drag race? Well the results are very, very close!