Prior to the Beijing Motor Show 2014, Bugatti has taken the wraps off the fifth model of its six-part Legends series for the Veyron Grand Sport Vitesse. For the first time in the series, the latest model, the Bugatti Veyron Grand Sport Vitesse Black Bess Legends Edition, is not inspired by a legend of Bugatti history. Instead, it has been inspired by the original Bugatti Type 18 Black Bess produced from 1912 to 1914.
Just like the other Legends editions presented, just three examples of the Black Bess will be produced. The original Type 18 Black Bess was one of the most important Bugattis of the pre-war era and ahead of all of its rivals. Under the hood, it was powered by a five-litre, inline-four cylinder engine delivering over 100 PS. Most importantly, the Type 18 Black Bess could reach an impressive top speed of 160 km/h!
The Type 18 was also driven by the company's founder, Ettore Bugatti and in it, Bugatti scored a victory in its class at the 1912 Mont Ventoux hill climb. Just seven examples of the Type 18 were produced which each sold to extremely select customers.
As with all the other Veyron Grand Sport Vitesse Legends Editions, the Black Bess features an 8.0-liter, quad-turbocharged W16 engine delivering 1,200 hp and 1,500 Nm of torque between 3,000 and 5,000 rpm. Consequently, the car can sprint to 100 km/h in a mere 2.6 seconds and a top speed of 408.84 km/h. However, that's not the most crucial aspect of the new Black Bess.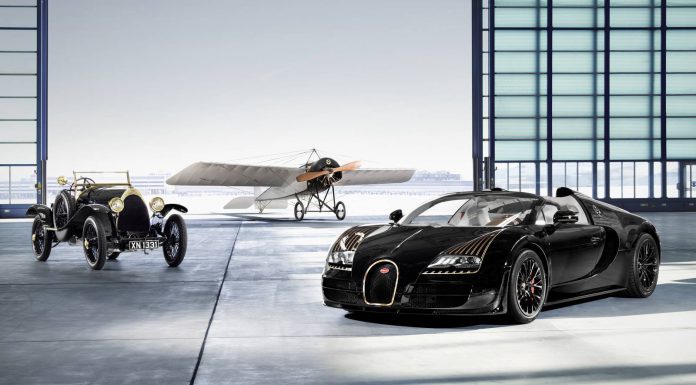 The complete carbon fiber body has been painted black just like the original Type 18. Additionally, the Bugatti Veyron Grand Sport Vitesse Black Bess Legends Edition features a host of gold accents like the original with some of them actually being coated in 24-carat gold. Most notably, the Bugatti horseshoe grille is surrounded by 24 carat gold. Further to this, golden pin stripes stretch back from the headlights before tapering off at the end of the door line. The car also features gloss black wheels and bright red brake calipers.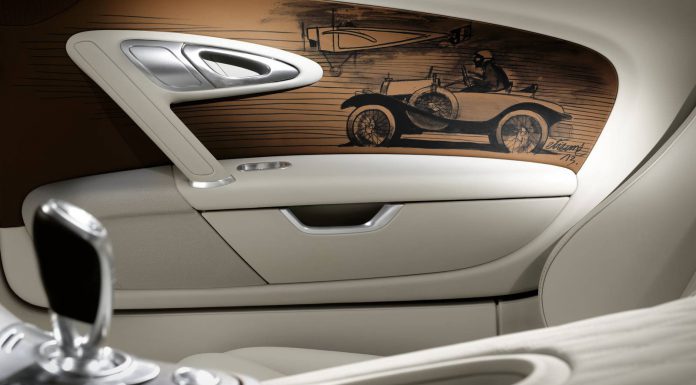 In the cabin, the Grand Sport Vitesse Black Bess is even more unique. Most panels are finished in Havanna leather and a host of hand painted panels feature prominently. These sketches have been hand painted directly onto the leather depicting the original Type 18 Black Bess, Roland Garros' airplane and a Morane Saulnier Type H. To protect the paint, a special ink and impregnation process has been utilised.
Stay tuned to GTspirit for more news about the upcoming Beijing Motor Show 2014 and for live pictures when it kicks off on April 20th.