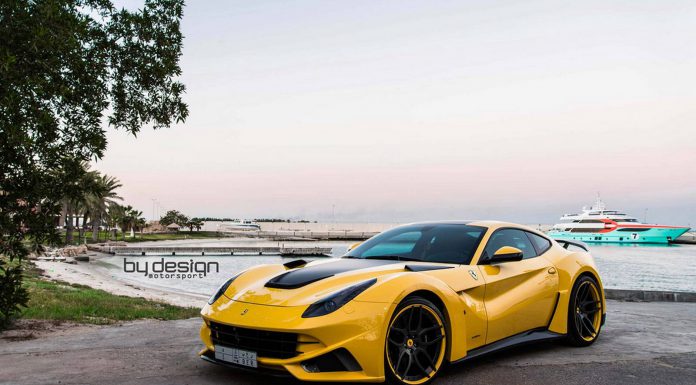 Saudi Arabia's ByDesign Motorsports is the latest player to have outfitted the popular Ferrari F12 Berlinetta with Novitec-Rosso's N-Largo body kit and performance upgrades.
This incredible rendition of the N-Largo has been finished in a brilliant shade of yellow with black accents. A set of Novitec wheels finished in the same colour scheme compliment tha N-Largo's brutish physical appearance.
With the Novitec-Rosso N-Largo, the body of the car represents the largest upgrade to the overall appeal. For starters, the front and rear fenders have been widened to give the N-Largo a very intimidating stance. The front and rear bumpers have been modified to accommodate for the larger fenders, and provide a more sinister edge to give the F12 Berlinetta that added angry look.
In the rear, the combination of five-piece diffuser on the N-Largo fascia and the large rear airfoil create additional aerodynamic downforce at high speeds.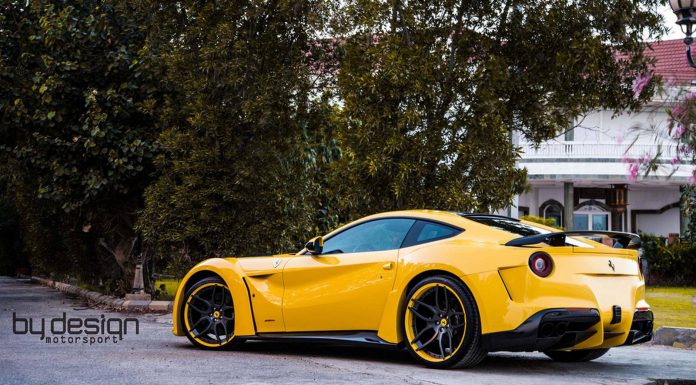 Additionally, widened side skits and a set of Novitec lowering springs give the N-Largo an extra sinister appeal. From every angle the N-Largo looks like a snarling aggressive beast!
Of course, what's the point of making a car look mean if its bite can't match its bark? Novitec has upgraded the 6.3-liter, 12-cylinder, four-valve engine by remapping the engine management system and outfitting the car with high-performance quad exhaust.