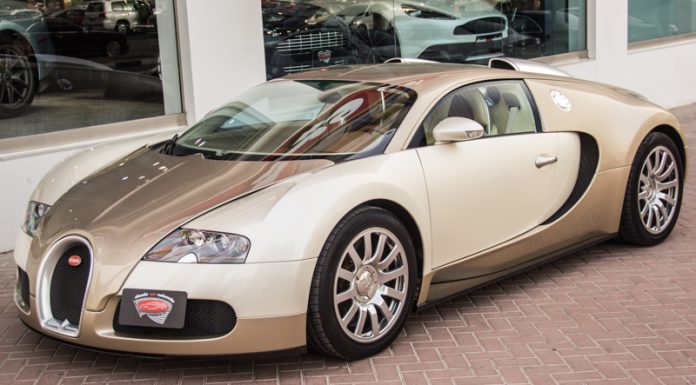 A very unique light gold and pearl white Bugatti Veyron 16.4 is currently up for sale in Dubai for the equivalent of just over $1.3 million in the United States.
This particular Veyron is believed to be number 125 and there are only two other known Veyrons with the same paint scheme, number 107 and 228. All three can be differentiated by their interiors and this particular one features a brown leather dashboard, door trims, transmission tunnel and parts of the seats. The rest of the cabin is beautiful cream leather making for an incredibly classy Veyron.
In case you needed reminding for whatever reason, the Bugatti Veyron 16.4 was the first and original Veyron model. It is powered by an 8.0-liter W16 engine joined with no less than four turbochargers! As a result of this, it delivers a brutal 987 hp and can accelerate from 0-100 km/h in just 2.5 seconds and onto a top speed of 407 km/h!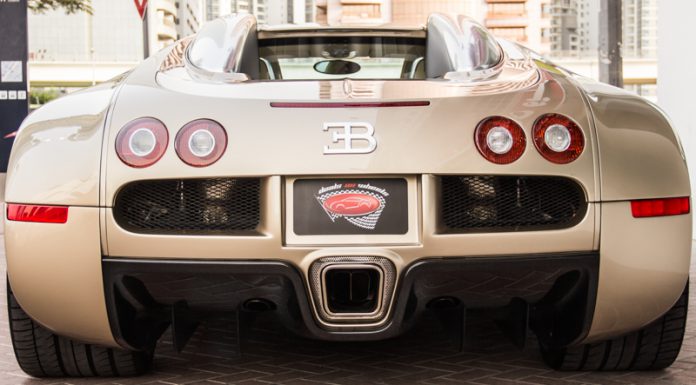 However, what really separates the Veyron from other cars which can top the 250 mph barrier like the SSC Ultimate Aero TT, Hennessey Venom GT and Koenigsegg Agera, is that the Bugatti Veyron is by all means a very luxurious GT car. With a truly exceptional eight-speed dual-clutch transmission still one of the best ever implemented in a car, it is rightfully automotive royalty.
And in this paint scheme, it is even more royal!
[Via Deals on Wheels]