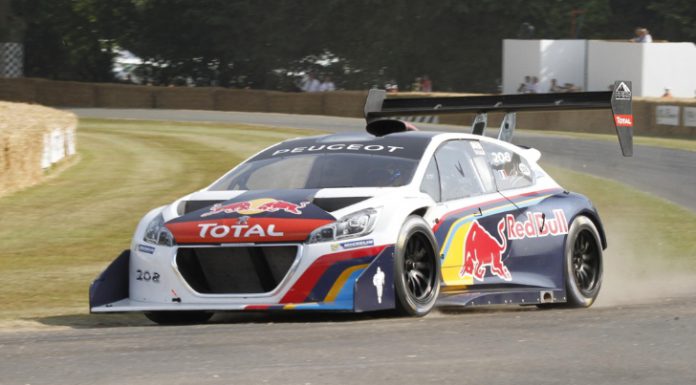 At last year's Goodwood Festival of Speed, Sebastien Loeb's epic Peugeot 208 T16 Pikes Peak car headed up the famous hillclimb. However, instead of Loeb getting behind the wheel, the 208 T16 was driven by Peugeot Sport test-driver Gregory Guilvert.
However at the Goodwood Festival of Speed 2014, Loeb himself will be reunited with the car that helped him demolish the Pikes Peak hillclimb record by more than 90 seconds! Last year, the Peugeot 208 T16 topped the time sheets at Goodwood alongside a Lola B12/60 Group C prototype piloted by Nick Heidfeld.
That time was about 4 seconds shy of the fastest time ever recorded at the hillclimb by Nick Heidfeld in 1999 in a Formula One car. However, with Loeb back behind the wheel of the 208 T16, he'll definitely give that time a run for its money!
Powering the Peugeot 208 T16 Pikes Peak is a mid-mounted bi-turbo V6 engine from the Peugeot 908 racer powering all four wheels. This potent powerplant delivers an insane 875 hp and only has to shift 875 kg of weight, meaning the Peugeot 208 T16 Pikes Peak has exactly one horsepower per kilogram. Thanks to the massive power and tiny weight, Peugeot claims the 208 T16 Pikes Peak can hit 100 km/h in just 1.8 seconds, 200 km/h in 4.8 seconds and it's top speed of 240 km/h in just 7 seconds.