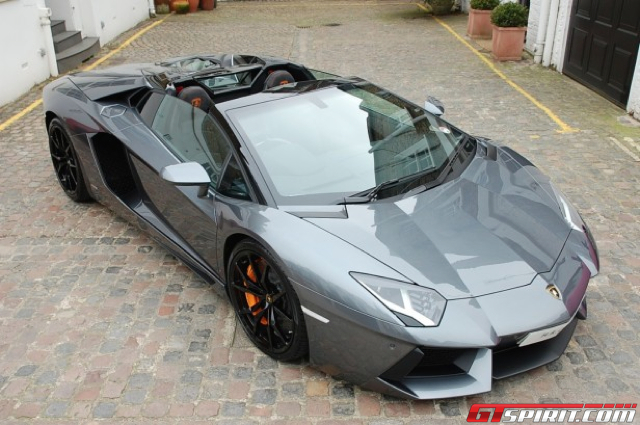 The Lamborghini Aventador is one of the most thrilling cars on sale today. With its aggressive looks and spectacular engine, it is a car that many desire. But how to make the Aventador even more exciting? Well Lamborghini opted to take to roof off and it certainly made a difference! The car looks even better and allows the driver and passenger the chance to hear the bonkers V12 in all its glory!
Here we have a very attractive example finished in a menacing shade of grey known as 'Grigio Estoque' complemented with black Dione Forged wheels wrapped in Pirelli P Zero tyres. Orange stitching the cabin then matches the brake calipers. As a brand new car, this Aventador Roadster has covered just 480 miles and is carrying the rather high price tag of £345,950 or approximately €415,000!
The Aventador Roadster features a centrally located, 6.5 liter aspirated V12 generating 700 hp, an ISR seven-speed gearbox and push-rod suspension. It accelerates from 0 to 100 km/h in just 2.9 seconds and has a maximum speed of some 350 km/h. These figures are all similar to those of the coupe that shares the same power plant.
Check out the full advertisement here!