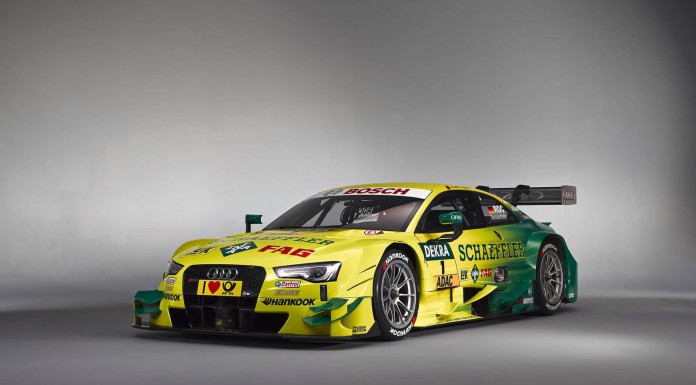 Audi has revealed the new look of the 2014 Audi RS5 DTM in "Schaeffler colors". The livery has been revealed on the No.1 car which will be driven by reigning Champion Mike Rockenfeller. The new racer was recently revealed at the Geneva Motor Show 2014 in black and features a redesigned aerodynamics package, promising to be even more capable than last year's entrant.
Up front, the Audi RS5 DTM features the same honeycomb grille as the production car while also featuring redesigned air ducts feeding the engine and brakes. Additionally, optimisations have been made to the massive canards of the RS5 DTM in order to make the airflow in this area more efficient. The wing mirrors have been tweaked accordingly to allow for the best airflow along the sides of the car also.
After receiving his new car, Mike Rockenfeller said, "I was thrilled as soon as I saw the initial designs but the car itself looks even more impressive. I'm incredibly excited about my first DTM season with '#1' emblazoned on the car and can hardly wait for the next track tests to start."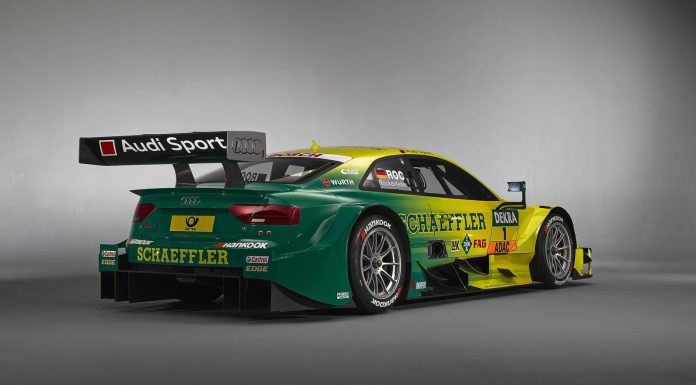 The newly revealed livery is the first of eight total liveries that Audi will use for the 2014 DTM season. The season will start on May 4 in Hockenheim, but prior to that teams will participate in testing on the Hungaroring in Budapest.