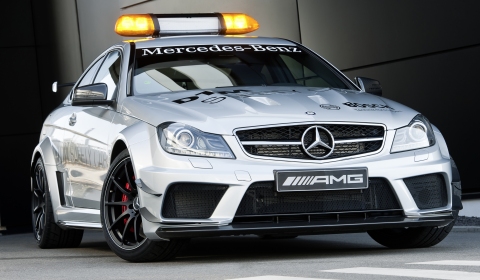 Mercedes-Benz has officially released that the C63 AMG Coupe Black Series will be the new DTM Safety Car. With a maximum output of 517hp from its AMG 6.3 liter V8 engine, this two-seater is the most powerful C-Class of all time. The German Touring Car Masters aka DTM starts at the Hockenheimring this weekend on 29th of April.
The Safety Car is deployed under the direction of the German Motorsport Association (DMSB), which is responsible for implementing safety measures, ensuring compliance with safety standards and discharging the attendant official sporting functions in accordance with the DTM rules. The C 63 AMG Coupé Black Series Safety Car driven by racing driver Jürgen Kastenholz (44).
The stock C 63 AMG Coupé Black Series required modifications to a few points. The most striking feature distinguishing it from the series production version is the aerodynamically optimised light bar on the roof. Two central green lights on the front and rear are always active when it enters the field at the beginning of a Safety Car phase. Continuous green is the signal for all DTM drivers to overtake the Safety Car.
As soon as the Safety Car is in position in front of all DTM vehicles, the green LEDs are switched off and the orange LEDs are activated. The flashing orange lights at the outer ends of the light bar indicate that overtaking is absolutely prohibited. The stroboscope-like flashing LED lights on the front and rear remain active throughout the Safety Car phase. The license plate with Safety Car lettering which is illuminated by LEDs on the boot lid provides for better visibility in poor weather.
The C 63 AMG Coupé Black Series DTM Safety Car is equipped with the AMG Track package, the AMG Aerodynamics package, the AMG Exterior Carbon-Fiber package and forged AMG light-alloy wheels. The interior also corresponds to the series production model, with a few exceptions. The two AMG sports bucket seats ensure additional support for driver and co-driver. Four-point seat belts are used.
For communication with the race organisers, the Safety Car is equipped with a two-way radio system and TV monitor. The camera located next to the rear license plate provides the co-driver with a view of the DTM cars following the Safety Car. Under the monitor there are four buttons in blue, green, orange and silver for operating the light bar, the stroboscope-type flashing LED lights and the horn.