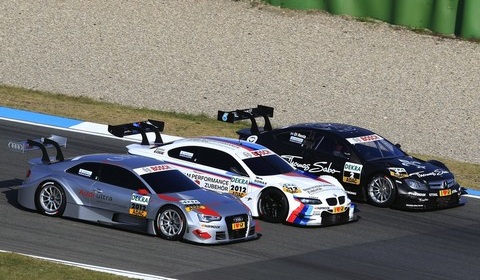 Our latest photo of the day includes three awesome DTM cars; the Audi A5, BMW M3 and Mercedes-Benz C Coupé.
The Audi A5 DTM made its debut as successor to the successful A4 who served for many years. The A5 DTM comes with rear-wheel drive and a 4.0 liter V8 powerplant. The engine produces 460hp together with 500Nm of torque.
The brand new M3 comes with a similar 4.0 liter V8 creating about 480hp. The slightly more power is needed because of the heavier weight.
The strongest one of the three comes from Stuttgart, the Mercedes-Benz C-Coupé has a 4.0 liter V8 engine producing 500hp.