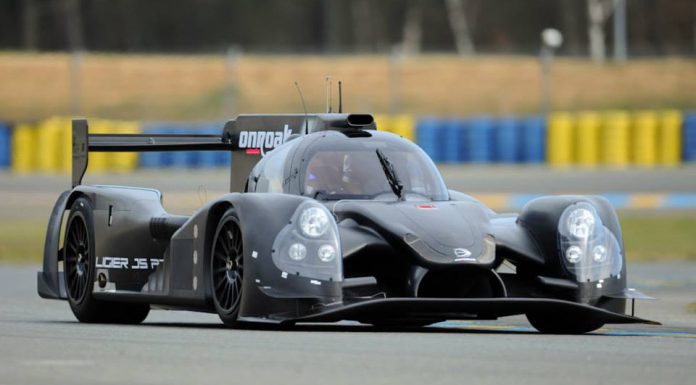 This is the new Ligier JS P2 (LM P2) closed racer that Onroak Automotive will use in the FIA World Endurance Series. The car recently made its first run at the Bugatti Circuit in Le Mans France, a track within the major Circuit des 24 Heures. Debuting with a Nissan engine and running on Dunlop tires, the racer managed to do over 60 laps without any major problems.
The car was driven by British driver Alex Brundle while his partner Olivier Pla is at Sebring for the 12 hours race. Design work was headed by Nicolas Clémençon while the technical work was ran by Thierry Bouvet; after the first day out on the track, the crew is certain that the car is ready for further development and final touches.
Quotes:
Guy Ligier:
It's a great feeling for me and a great pleasure to be with the team for debugging this car that already seems to work very well. Thank Jacques Nicolet any heart for giving me this wonderful opportunity to experience the return of Ligier endurance and share such an adventure. The race is all my life, and I hope we do many things together. We must now begin the development phase. There is still of course a lot of work, but the team showed today that we had a very good base.
Alex Brundle:
The first impression in terms of driving comfort is good, much better than I expected. Visibility is always a problem in closed prototypes, but I'm glad to say that this is not so bad in ours. We followed quite a series of laps and we had only minor issues. Of course there are things to refine and adjust, but overall the car is very good. I have every confidence in the work done by the team and I would like to sincerely thank. We now have a comprehensive development program before the start of this car in competition. But we have a very good base to work.
Jacques Nicolet:
I am very pleased and impressed with the quality of work done by all teams Onroak Automotive. Ligier JS P2 was able to sixty rounds without experiencing problems. It is a real satisfaction that will allow us to devote ourselves to the development of the car with confidence. Obviously the car is born and it is now essential. Congratulations to everyone who participated in any way to this realization.