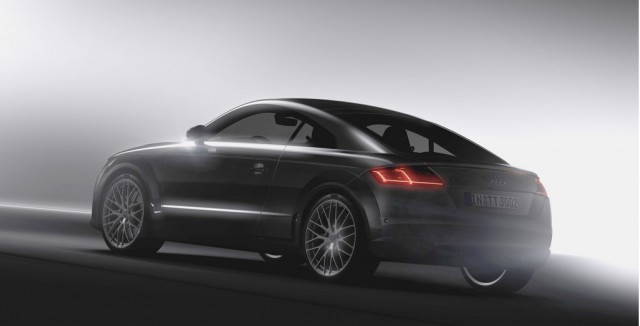 Prior to the official release of the 2015 Audi TT very soon, one final teaser image has been released by Audi. As the above image shows, this latest teaser showcases the new German sports car from a ¾ rear perspective and as previous spy shots, sketches and videos have shown, it has been heavily inspired by the Audi Allroad Shooting Brake Concept from Detroit.
Consequently, the car features more aggressive, angular and sharper taillights as well as flared wheel arches. From the front showcased in previous teasers, the 2015 Audi TT features completely redesigned headlights and sharper lines stretching across the doors. Also, previewed in a recent official sketch, another key design change at the front end of the 2015 Audi TT is the repositioning of the Audi four-rings logo to now sit above the grille rather than on it like the previous-gen TT.
Under the hood, we expect to see a selection of different engines options just like the outgoing model. These could include an entry-level 1.8-liter TFSI powertrain delivering 180 hp, a 2.0-liter TFSI pumping out 220 hp and up to 300 hp in top-spec. Finally, a new Audi TT-RS is likely to appear down the line with an uprated five-cylinder turbocharged engine producing around 380 hp.

The 2015 Audi TT will celebrate its public debut on Tuesday at the Geneva Motor Show 2014. But make sure to follow GTspirit.com and our social media channels on Monday evening for the first live images from the exclusive preview at Volkswagen Group Night in Geneva.