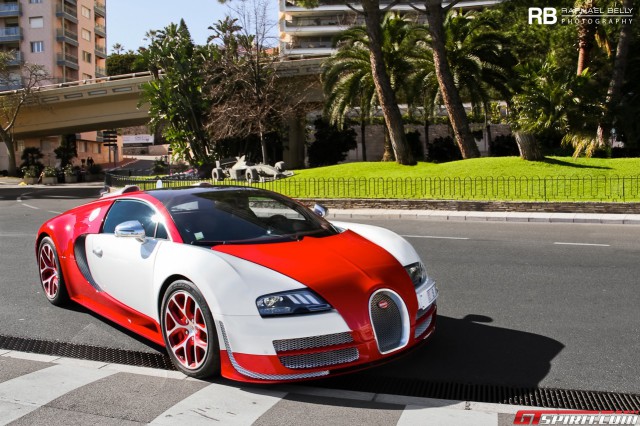 The Bugatti Veyron Grand Sport Vitesse is an outstanding engineering feat and will that will take a lot to be overthrown as the king of speed. The car is one of the most powerful, most expensive and most attention grabbing cars in history. Just yesterday we reported on a Veyron Supersport being spotted in Monaco and another has been seen this afternoon and this example certainly stands out. The car has been finished in a striking red and white combination the pops under the Monaco sun, we like it rather a lot!
Inspired by the record breaking Bugatti Veyron Super Sport, the Veyron Grand Sport Vitesse is powered by a 8.0-liter W16 engine which puts out an impressive 1,200 horsepower (882 kW) at 6,400 rpm. The peak torque of 1,50 0Nm is reached in between the 3,000 and 5,000 rpm.
Power is transferred to all four wheels via a seven-speed direct-shift gearbox with a shift time of 0.1 sec. The first gear goes all the way up to 104 km/h and the seconds goes to 148 km/h, an illegal speed is almost every country in the world. The third gear takes you to 197 km/h, the fourth to 257 km/h, the fifth 313 km/h, the sixth 377 km/h and the seventh gear takes you to the top speed of 410 km/h.