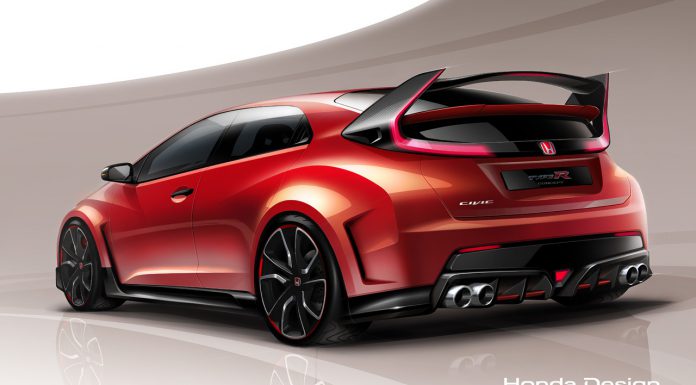 In the lead-up to the Geneva Motor Show 2014, Honda has released the following teaser image of its next-generation Honda Civic Type R Concept set to hit the market very soon. For those that didn't know, the new Civic Type R which is pinned to debut in production spec in 2015, will be unlike any other Civic Type R before it.
Most notably, the next Honda Civic Type R is set to feature an insane 2.0-liter, turbocharged four-cylinder delivering upwards of 300 hp. This engine will also combine Honda's traditional high-performance VTEC system and when combined with the rush of the turbo, should make the next Civic Type R a true pleasure to drive!
From a design standpoint, the new Civic Type R will be based off the standard Honda Civic. However, this image showcases a very futuristic taillight design incorporated into the massive rear wing which looks absolutely spectacular and much better than the standard Civic's rear lights. Hopefully, these will remain for the production version.
Additionally, at the rear, the Civic Type R Concept features an aggressive rear diffuser with massive quad exhaust pipes along with widened arches both up front and at the rear. Combined with some epic sports wheels, the Honda Civic Type R Concept will be unquestionably be the highlight for Honda at the Geneva Motor Show 2014!