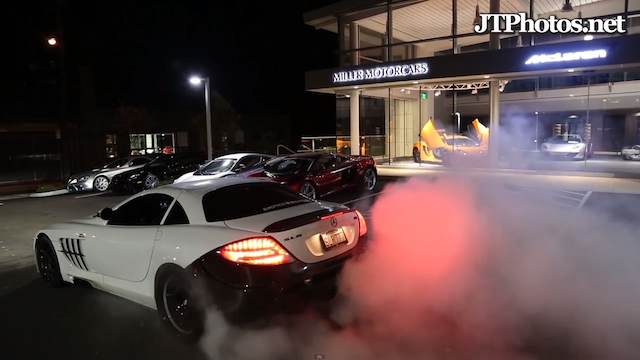 The Mercedes McLaren SLR. A supercar that has the cruising ability and comfort of a GT car with a soundtrack that sounds like a World War I fighter-plane. The car is powered by 5.4 liter V8 equipped with a supercharger. The hand-built AMG engine has been shoe-horned into the engine bay behind the front axle and delivers 626 horsepower at 6,500 rpm to the rear axle. For most the looks are subtle and sporty whilst oozing class and decadence.
[youtube]http://youtu.be/QLxfSb_0ZaU[/youtube]
The owner of this car is not one of those people and sent their SLR to tuners RennTech. The cars looks are debatable but as you can see from the video above, the owner also likes to do burnouts! This was captured in the USA a car park outside a McLaren showroom! Enjoy!