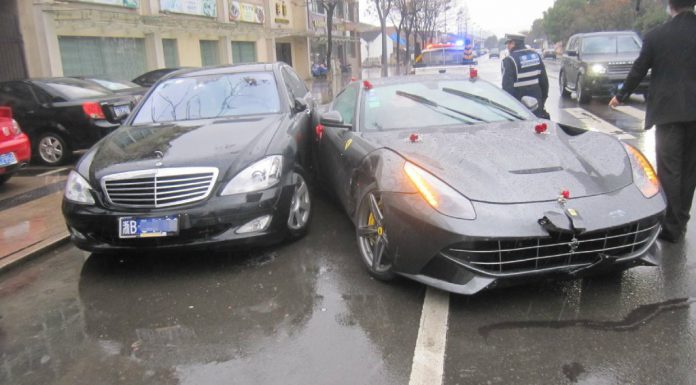 As far as sensational stories go, this one has to rank pretty highly! News from Chinese sources suggests that the accident you see in the pictures above, happened during a wedding convoy in the East China city of Zhejiang.
According to sources, the driver of the Ferrari F12 Berlinetta was driving alongside two Rolls-Royce and a Bentley on Wei Xing Road when the accident happened. The driver, 20 year old Yuyao Xiao Zhu, had apparently braked from a relatively low speed to avoid hitting a pedestrian crossing the road.
Unfortunately, the wet road conditions caused the car to lose traction and skid 180 degrees. It ended up at the side of the road, having hit a Mercedes-Benz S 500 parked by the roadside. The accident caused damage to the front facia of the Ferrari and to its side fender panels. It looks perfectly repairable from our viewpoint.
From what we understand, neither driver nor passenger were injured. The Ferrari F12 Berlinetta was wearing floral decorations at the time. We're not sure if the driver managed to make it to the wedding in time!