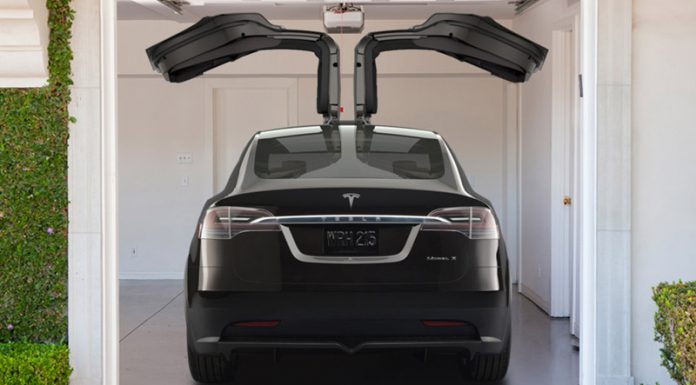 When the Tesla Model X debuted back in 2012, one of the most eye-catching features were its outlandish 'falcon doors', effectively an evolution of Mercedes-Benz's infamous gullwing doors. Well, while speaking with Green Car Reports recently, Tesla CEO Elon Musk confirmed that the production-spec Model X electric SUV will actually maintain these unique doors!
However, don't worry about parking in between two cars or next to a curb and not being able to get out of the car without smashing the doors, because Tesla is promising a very smart fix. The doors will feature double hinges and they will be equipped with sensor to adjust the opening sequence when necessary. Elon Musk is so confident of this system that he said "If you can fit your Model X between two other cars, the doors will open."
Elsewhere, the Tesla Model X will have the exact same wheelbase as the Model S sedan. However, it will be approximately 5 cm longer while maintaining the same width as the Model S with the Model X quite a few inches taller. Despite its increased size, it will actually have a lower drag coefficient than the Model S but due to increased drag and additional weight, it will use about 10 per cent more battery power than the Model S. All-wheel drive will then come standard.
[Via Green Car Reports]