Acura Motorsports today pulled the wraps off the new 2015 Acura TLX GT Race Car at the Detroit Motor Show 2014, announcing plans to move up to the GT category of the growing and highly competitive Pirelli World Challenge Championship.
To be campaigned by long time Acura Motorsports partner RealTime Racing, the new TLX GT will move Acura into the top category of the Pirelli World Challenge, facing competition that includes the Audi R8 LMS, Cadillac CTS-V, Chevrolet Corvette, Dodge Viper, Lamborghini Gallardo, Mercedes SLS, Nissan GTR, Porsche 911 and Ferrari 458.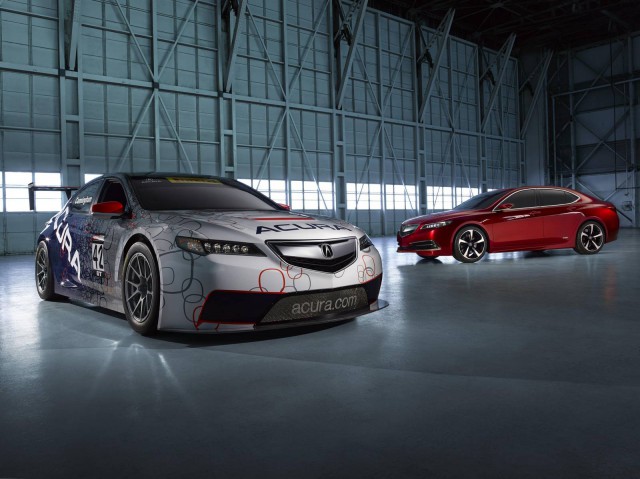 Developed from the production 2015 Acura TLX, the Acura TLX GT Race Car will feature a modified HPD chassis and aerodynamic performance parts approved for Pirelli World Challenge competition, and will be powered by a direct-injected, twin-turbocharged V6 engine, developed by HPD from the normally aspirated, production TLX luxury sport sedan.
"In our 27 years of racing Hondas and Acuras, we have developed a clear understanding of what it takes to win races and championships," RTR team principal Cunningham said.
"In 2014, the Pirelli World Challenge GT class looks to be more competitive and diverse than at any time in the 25-year history of the series. RealTime has competed successfully in this category before, and we look forward to the challenges that lie ahead. With the onslaught of these world-class GT-3 competitors joining the fray, we will be working hard to develop the new TLX GT into a winning package. But that's what we love to do."