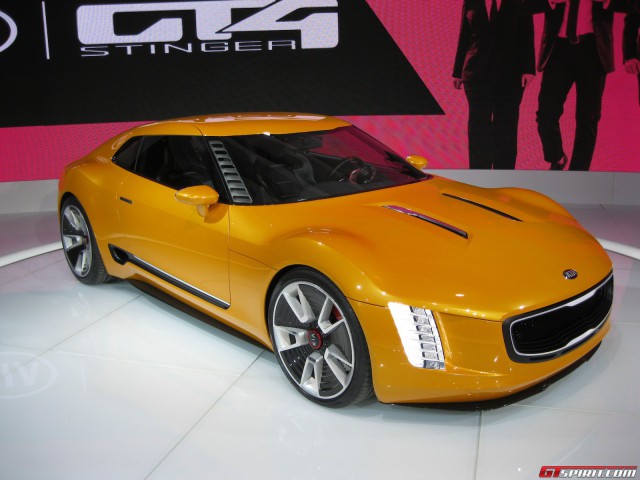 Following on from its recent online debut, the Kia GT4 Stinger Concept has been presented at the Detroit Motor Show 2014. While strictly a concept, the GT4 Stinger Concept certainly looks the part on as our live photos show, it is extremely eye-catching!
Under the hood, the Kia GT4 Stinger Concept features a 2.0-liter turbocharged direct injection four-cylinder engine delivering an impressive 315 hp. When compared to the 197 hp produced by the naturally-aspirated Toyota GT86 and Subaru BRZ sports cars, there's no doubt that the Kia GT4 Stinger will be in a different league when and if it hits the road. To put this into perspective, the Nissan 370Z delivers 330 hp from its 3.7-liter V6 engine, so the smaller capacity GT4 Stinger isn't far away.
Mated to this powertrain is a close-ratio six-speed manual transmission driving the rear wheels as previously mentioned. While Kia has yet to divulge any performance details, a sprint to 100 km/h from a standstill in five seconds or less is on the cards.
Fortunately, the Kia GT4 Stinger Concept isn't all about the powertrain. It also features a trick chassis with independent double wishbone suspension. It rides on stunning 20-inch wheel with carbon fiber accents. All up, the GT4 Stinger Concept, including its two small rear seats in the 2+2 layout, tips the scales at just 1,304 kg with weight distribution being 52 per cent up front and 48 per cent at the rear. Braking power is then supplied through 15-inch Brembo Gran Turismo two-piece cross-drilled rotors combined with four-piston calipers.
For more on the Kia GT4 Stinger Concept, take a look at our earlier article. Remember to bookmark our Detroit Motor Show 2014 channel for the latest Detroit Motor Show News!