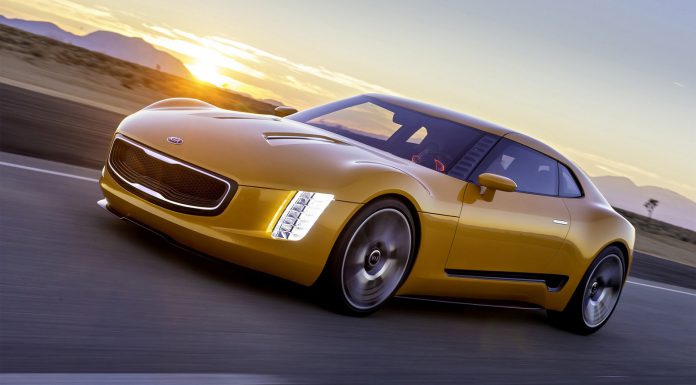 The Nissan 370Z better watch its back because a brand new 300hp+, rear-wheel drive Asian sports car could be on the way and it's from….Kia. Welcome to the Kia GT4 Stinger Concept unveiled at the Detroit Motor Show 2014. While it remains very much a concept car for the time being, there's a chance we could see a production-spec GT4 Stinger a few years down the road.
Under the hood, the Kia GT4 Stinger Concept features a 2.0-liter turbocharged direct injection four-cylinder engine delivering an impressive 315 hp. When compared to the 197 hp produced by the naturally-aspirated Toyota GT86 and Subaru BRZ sports cars, there's no doubt that the Kia GT4 Stinger will be in a different league when and if it hits the road. To put this into perspective, the Nissan 370Z delivers 330 hp from its 3.7-liter V6 engine, so the smaller capacity GT4 Stinger isn't far away.
Mated to this powertrain is a close-ratio six-speed manual transmission driving the rear wheels as previously mentioned. While Kia has yet to divulge any performance details, a sprint to 100 km/h from a standstill in five seconds or less is on the cards.
Fortunately, the Kia GT4 Stinger Concept isn't all about the powertrain. It also features a trick chassis with independent double wishbone suspension. It rides on stunning 20-inch wheel with carbon fiber accents. All up, the GT4 Stinger Concept, including its two small rear seats in the 2+2 layout, tips the scales at just 1,304 kg with weight distribution being 52 per cent up front and 48 per cent at the rear. Braking power is then supplied through 15-inch Brembo Gran Turismo two-piece cross-drilled rotors combined with four-piston calipers.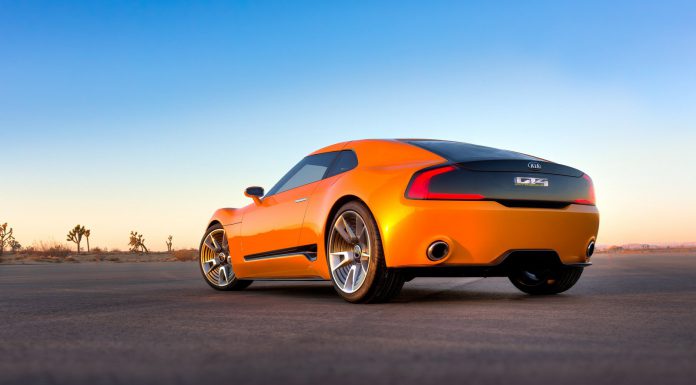 Designed at Kia's studio in Irvine, California, there's really no debating the fact that the GT4 Stinger concept looks like nothing else out there in their automotive world. With unique vertical LED headlights, a sharply angled roof somewhat reminiscent of the Nissan GT-R's, as well as a futuristic rear-end and Ignition Yellow paint, the GT4 Stinger certainly has the makings of a an excellent sports car.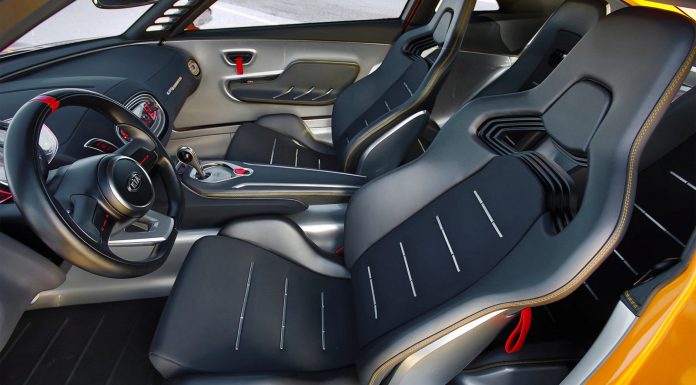 The large glass hatch at the rear opens up and hides a built-in storage area as well as a rear strut-tower brace. Inside, the Kia GT4 Stinger Concept includes billet-aluminium door handles with lightweight doors and moulded leather racing seats. It also features billet-aluminium pedals, a flat-bottomed sports steering wheel, LED-illuminated instrument panel with a prominent tachometer. In keeping with the driver focused design of the GT4 Stinger Concept, it doesn't feature an audio system with Kia claiming that comes from under the hood and the exhaust pipes!
When further discussing the car, Chief Design at the Kia Design Center America Tom Kearns said, "Driving enjoyment was the number one priority in designing the GT4 Stinger. It's a 2+2 sports car that can turn heads as a daily driver while also being right at home on the track. It's about purity, simplicity and timelessness. The GT4 Stinger is a throwback to days when driving a car was a visceral experience that wasn't muted by electronic gimmickry."