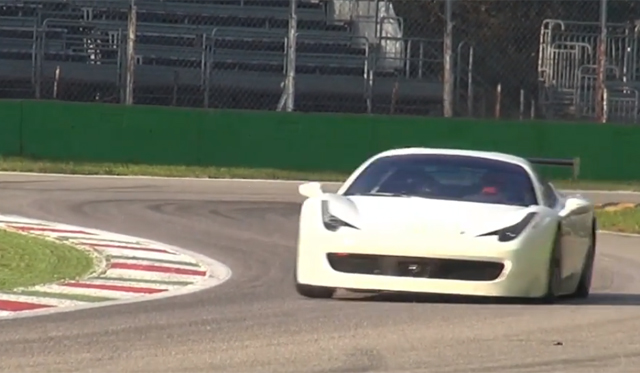 Revealed late last year, the Ferrari 458 Challenge Evoluzione takes the already insane 458 Challenge and adds some new aerodynamic and technical improvements.
While Ferrari has never been very forthcoming when it comes to releasing specific details about the Ferrari 458 Challenge Evoluzione, the following video filmed at Monza at least shows us the incredible performance and exhaust note produced by the Italian racing car!
[youtube]http://www.youtube.com/watch?v=81jC6moJEeE[/youtube]
Starting on the aerodynamic side of things, the new Ferrari 458 Challenge Evoluzione now incorporates a brand new massive rear wing to obviously increase downforce to the driven wheels. It then features a new front splitter up front as well as an updated floor. Ferrari claims that these changes not only improve the lap times of the Ferrari 458 Challenge Evoluzione over the regular Challenge but also improve the vehicle's long distance efficiency.
As mentioned, Ferrari hasn't released any specifications about the car but we believe it features the same mechanical components as the regular Challenge. The regular Ferrari 458 Challenge released in 2010 features a direct injection V8 engine which is the same as production tune has an output of 570 hp at 9,000 rpm. The main modifications have been made to the gear ratios and calibration of its dual-clutch F1 gearbox to guarantee higher torque at lower revs. The 458 Challenge is also equipped with the E-Diff electronic differential already employed on the road-going version, a first for Ferrari's track-only cars.
Ferrari will offer existing owners of the regular Ferrari 458 Challenge the chance to upgrade to the Evoluzione package. Alternatively, the Ferrari 458 Challenge Evoluzione can be purchased as a whole.