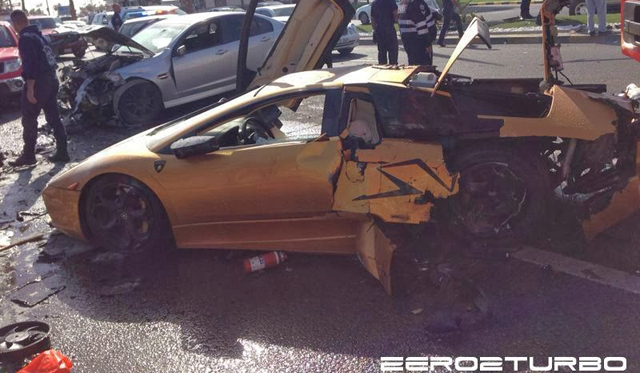 With its wealth from the oil industry, Kuwait is no stranger to supercars. In fact, if you visit the nation's wealthier areas you will stumble upon supercar after supercar. Unfortunately where there are supercars, there will always be supercar crashes and unfortunately, the following Lamborghini Murcielago crash is one of the worst we have seen.
The crash occurred on Blajat Street when the driver of the original generation Lamborghini Murcielago was reportedly speeding and turned in front of oncoming traffic. The Murcielago then collided with a silver sedan which appears to be an Australian Holden Commodore. From these images, it appears as though the rear-end of the Murcielago hit the front of the Holden. Before long, the Lamborghini's tail was engulfed in flames.
Thankfully, those at the scene were able to pull the Lamborghini driver from the vehicle before he was affected by the flames. However, the driver is said to be in a critical condition in hospital. The fire was later extinguished by local fire authorities before it could spread any further.
Built from 2001 to 2010, 4,099 examples of the Lamborghini Murcielago were produced. The original generation car featured a 6.2-liter V12 engine producing a total of 572 hp. It could consequently hit 100 km/h in just 3.8 seconds. However, the only place this Murcielago will be going is to the scrap yard.
[Via Zero 2 Turbo]