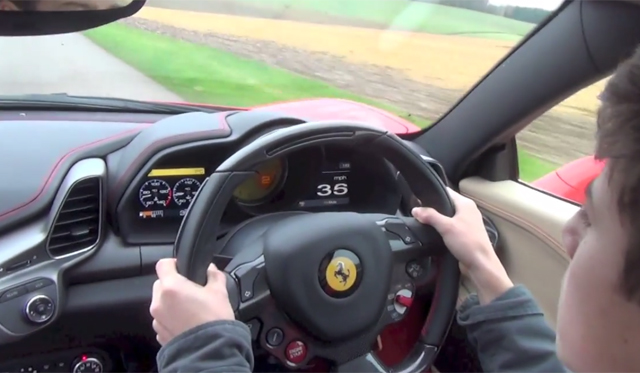 Remember this video of a 9 year old Indian boy driving his Dad's Ferrari F430? Well, now a video has been posted of a 14 year old driving his Dad's Ferrari 458 Italia on private land and we must say, we are quite envious of his opportunity!
[youtube]https://www.youtube.com/watch?v=K5-8caO6Eqw[/youtube]
Under the hood, the Ferrari 458 Italia is powered by a 4.5-liter V8 engine producing an impressive 570 hp. That engine is then mated to a double-clutch 7-speed semi-automatic transmission driving the rear wheels. As a result, in the right conditions the 458 can sprint to 100 km/h from a standstill in just 3.4 seconds and onto a top speed of over 200 mph!
While this teenager doesn't fully explore the performance capabilities of the Ferrari 458 Italia, it is still well worth a watch!