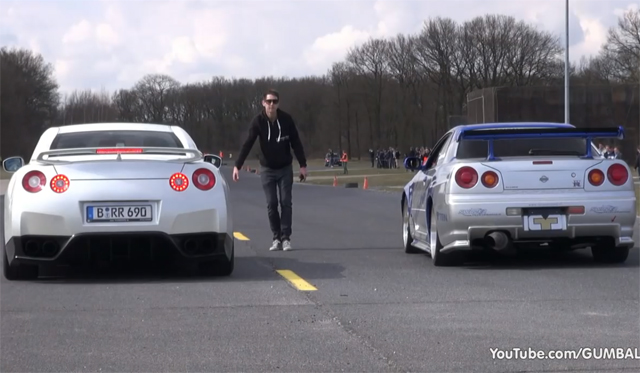 As we know, the Nissan GT-R, even in stock form, is one of the world's quickest accelerating cars. What's more, in the brand new Nismo spec, the GT-R is said to be capable of reaching 100 km/h in around 2.5 seconds.
[youtube]http://www.youtube.com/watch?v=UxBQiwGMfDg#t=20[/youtube]
Asides from factory tuned Nissan GT-Rs, the Japanese sports car has become a real favourite among engine tuners around the world. However, the R35 generation GT-R isn't the only Skyline to be popular among tuners with the previous generation Nissan Skyline, the R34 a real fan favourite.
In the following video a Nissan Skyline GT R34 has been tuned to producing 700 hp. It can be seen racing a Lamborghini Aventador, a 650 hp Nissan GT-R and an 800 hp Nissan GT-R courtesy of Switzer Performance. While it does have some traction issues off the line, it puts up a very good fight!