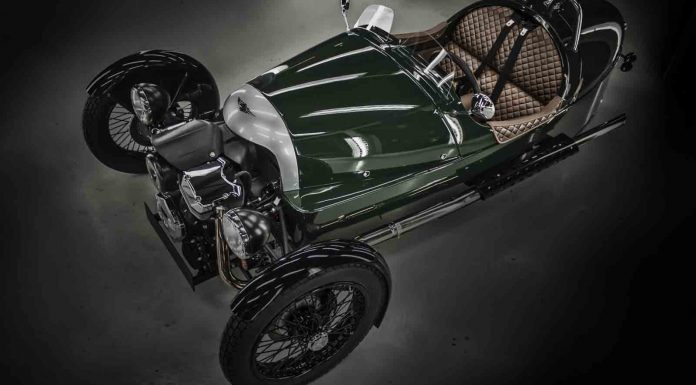 While many new sports car and supercar manufacturer appear and then disappear each and every year for various regions, creating an affordable, lightweight and enjoyable sports car like the seems to be a good starting point. The perfect example of that is the Morgan 3 Wheeler.
First presented a few years ago, it raised a few eyebrows with its hood mounted motorcycle engine and three wheel configuration. Despite this, we discovered on our road test that it was a thoroughly enjoyable sports car to drive. For the 2014 model year, a slightly updated Morgan 3 Wheeler has officially been revealed.
GTspirit Road Test of Morgan 3 Wheeler

The most significant change is a re-worked chassis which sees increase in torsional stiffness and ultimately better handling. Additional changes on the 2014 Morgan 3 Wheeler include a revised centre drive unit and bevel box with the steering being tweaked to improve high speed stability and to also eliminate bump steer.
To help at lower speeds, the 2014 3 Wheeler has seen the fitment of a new cooling pack to send more air into the engine to therefore control temperatures.
From a visual standpoint, the 2014 Morgan 3 Wheeler remains identical to the current model with the exception of additional air vents and a wider variety of optional vinyl wraps and colours.
While speaking about the handling improvements, Morgan managing director Steve Morris said, "The handling improvements come from the extra stiffness, along with our other improvements to the chassis and the steering. We had feedback from customers in America that because of the different road conditions, we were getting more commentary about the bump steer.
"What we've done is to re-engineer the setup to eliminate that, and increase the stability. If you were doing 100mph in the 3 Wheeler before you would find some bump steer which could affect stability. This new setup has transformed that."