While the Los Angeles Auto Show 2013 has held massive worldwide car debuts of vehicles like the 2014 Porsche Macan, a previously unknown car has also appeared dubbed the Youabian Puma.
Designed to be a true one-off and extremely unique, the Youabian Puma combines the feeling of freedom of all convertibles with the powerplant of a muscle car with unique styling and off-roading capabilities. Overall, the Youabian Puma is said to measure an incredible 6.15 metres long while the wheels are a massive 1.1 metres tall and .53 metres (21 inches) wide. This is certainly unlike any other car ever released!
Under the hood, the Youabian Puma is powered by a massive 7.0-liter V8 engine likely from the Corvette Z06 and producing an equal 505 hp. Despite the car's massive weight, Youabian still claims it can reach 100 km/h in just 5.9 seconds. Even if that is possible, we certainly wouldn't be confident driving this massive vehicle at such speeds!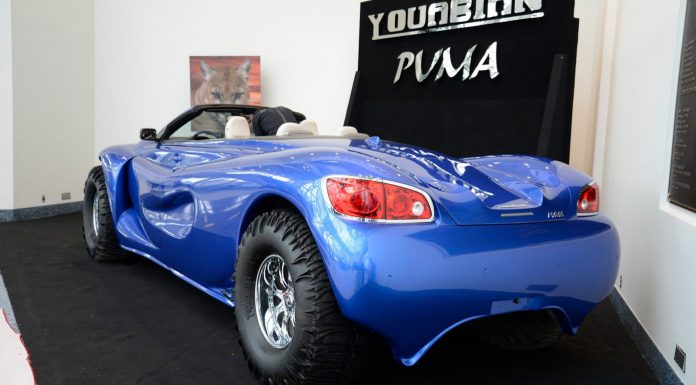 Practicality wise the Youabian Puma does feature a functional retractable hardtop roof which is said to open and close in just 20 seconds.
Thankfully, the Youabian Puma will never reach production. Even if it did, we'd be surprised if any orders were placed!