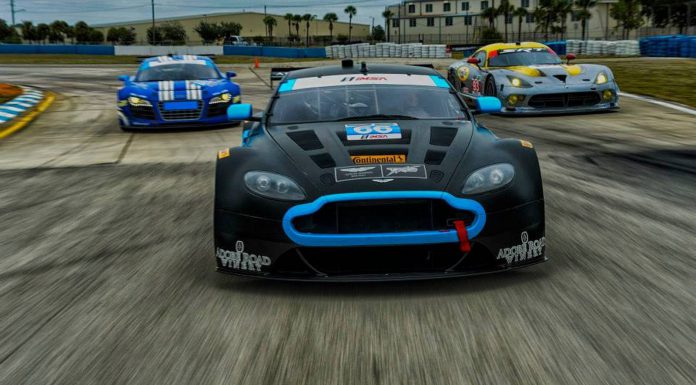 The newly formed TUDOR United SportsCar Championship is in full gear in preparations for the inaugural 2014 season. This weekend, teams were undertaking the Sebring winter test at the Sebring International Raceway and will resume similar testing on Tuesday at the Daytona International Speedway.
The season will begin with the Rolex 24 Hours at Daytona on January 23rd, the cars have a few more weeks to complete the winter tests. The Daytona race has always been a major points setter for the teams as seen in the former American Le Mans Series and with the current mood, there is more effort being applied by each team. As you may remember, Aston Martin dropped one car from FIAWEC in September; which after the American round was left in the US to prepare for the USCC season debut.
In fact, the manufacturer car has showed great performance in the last two days alongside the American team TRG. Aston Martin has shown a winning spirit in FIAWEC and they are determined to take the same spirit to USCC. The No. 007 GTLM Aston Martin Vantage will be joined by Darren Turner and Paul Dalla Lana at Daytona.
Dan Sayers, Aston Martin Racing team manager and chief engineer said;
We've raced here many times, we've got quite a good setup for here, and that allowed us to get a lot of running here without having to do much development. But Daytona is going to be quite interesting. We haven't run a GT car there, so we've got to learn a lot, quickly. Two days isn't very long, so we've got to maximize it with Michelin and get the tires to work. We'll be learning a huge amount about that circuit.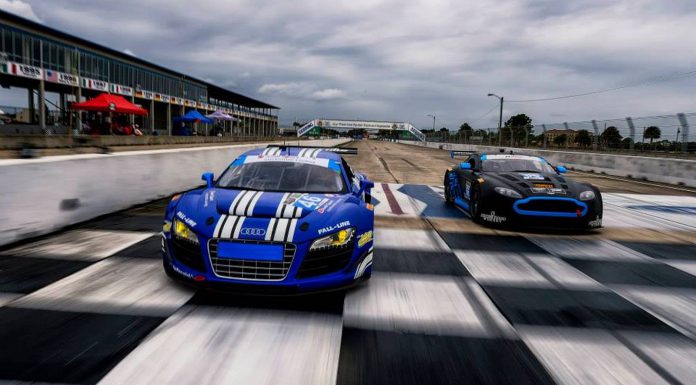 The American TRG team is not taking any chances either, TRG-AMR owner Kevin Buckler said;
They didn't want to bring all their stuff over for the test, and they had left their car with us after COTA. We're working together this weekend, sharing some resources and personnel with our cousins from England. They'll have all their own stuff for the Rolex 24.

We're still trying to understand the mechanical side of car, and make it faster. We knew the Porsches very well, but now we're starting from scratch with a clean sheet of paper. What we really need is a big spares package – we had a whole trailer full of stuff when we ran Porsches.
The DP (Daytona Prototype) cars are always the fastest, the No. 5 Action Express Corvette DP set the fastest times in both test days with a best lap of 1:53.748 (118.367 mph) by Sebastien Bourdais. Meanwhile, another fast class was that of Prototype Challenge (PC) which was dominated by No. 12 Pickett Racing ORECA FLM09. This was also the only PC car at the test and turned the fifth-quickest lap of the day overall at 1:58.035 (114.068 mph)
The GT Le Mans class was dominated by No. 93 SRT Motorsports SRT Viper GTS-R with 2:01.619 (110.706 mph) while the the No. 33 Riley Motorsports SRT Viper GT3-R topped GT Daytona (GTD) at 2:04.539 (108.111 mph).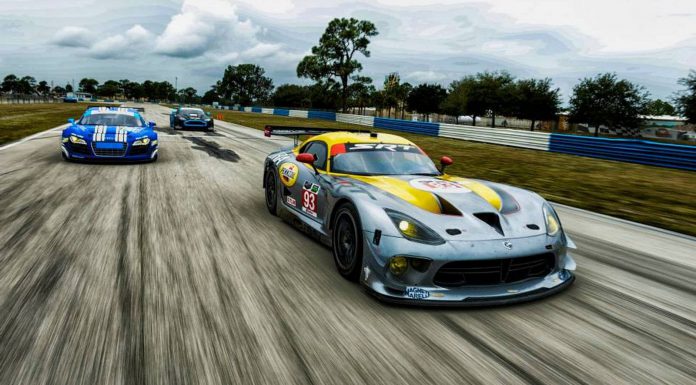 The tests mirror what we expect when the season begins, most of the winning teams during test days are the same teams who have been winning in the former American Le Mans Series. Nevertheless, there are new players in the field and anything will be possible, new cars and new drivers will also make the entire season exciting.