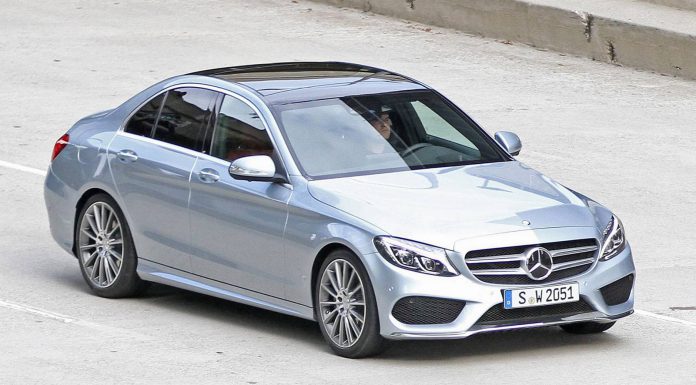 After months of spyshots and various reported leaks, the 2015 Mercedes-Benz C-Class was recently spied during its official photoshoot in the United States completely undisguised! As expected, the new C-Class draws heavily on the range-topping 2014 Mercedes-Benz S-Class for design inspiration.
Straight away, it is apparent that this particular model is wearing the optional AMG package consisting of a new front splitter as well as sports wheels. Other than that, this C-Class is likely to be one of the entry-level models set to hit the market mid to late next year.
From the front, the 2015 Mercedes-Benz C-Class features similar headlights to those of the new S-Class albeit slightly smaller to fit in line with the smaller shape of the car as a whole. From the side, the new C-Class shares two key design lines stretching from the front wheel arch to the rear wheel just like the also recently revealed CLA-Class.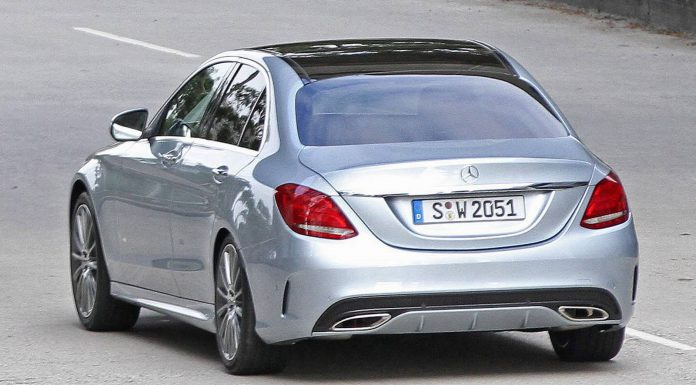 It is from the rear however, where the real similarities are found to the more expensive S-Class. The new C-Class features very similar taillights which just like the headlights are slightly smaller than they are on the S-Class. It is immediately apparent that they don't look as aggressive as the outgoing model's taillights so it will be interesting to see how the next-gen C63 AMG will look.
The 2015 Mercedes-Benz C-Class is said to be debuting at the Detroit Motor Show 2014 in January.
[Via AutoEvolution]