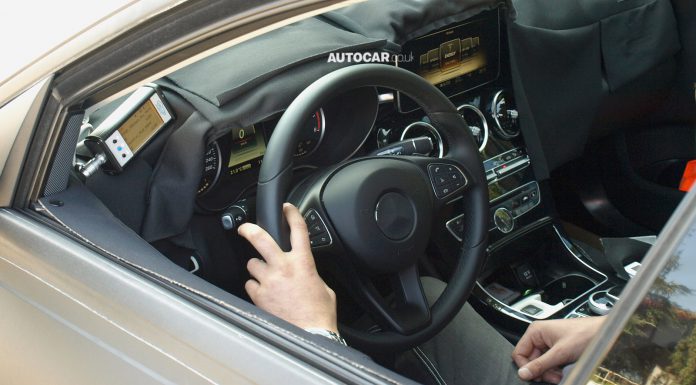 The 2015 Mercedes-Benz C-Class has been spied quite a few times in recent months, but the latest spyshots are arguably the most revealing to date. They showcase the interior for the very first time.
What's more, much of the interior showcased in the above image is completely undisguised and open to our wide-eyed stares. What's immediately apparent about the 2015 Mercedes-Benz C-Class interior is that unlike the 2014 S-Class which features a completely digital gauge cluster, the upcoming C-Class features two traditional, analog dials and one central display.
Other notable features of the 2015 Mercedes-Benz C-Class' interior are its large infotainment screen as well as some sleek black finishes and the traditional Mercedes-Benz air vents.
From the exterior, the 2015 Mercedes-Benz C-Class shares many of the new design elements of the recently updated 2014 Mercedes-Benz S-Class. In fact, it simply looks like a smaller version of the S-Class even featuring similar taillights as well as the sharp profile lines reminiscent of the 2014 Mercedes-Benz CLA.
In addition to these new exterior features, the 2015 Mercedes-Benz C-Class will also be offered as a convertible for the first time to rival the upcoming 2014 BMW 4-Series Convertible.
[Via Autocar
]