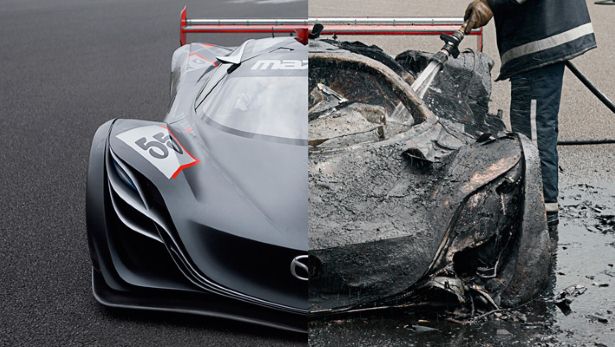 When the sole image showcasing the destroyed Mazda Furai was released by Top Gear, the automotive world mourned. After all, the Mazda Furai was unlike any other concept car which had gone before it both in terms of its futuristic styling as well as its on-the-track potency.
So when Mallory McMorrow from Road & Track heard about the burnt-out Mazda Furai, one of the designers responsible for the eye-catching Mazda Furai was contacted to see how he felt seeing his baby destroyed. This is what Carlos Salaff said.
"It was sad for me I poured my heart and soul into that car. When you pour your heart and soul into something, it becomes your baby. And then I saw it destroyed like that and it really hurt. It hurt."
"The timeless aspect and energy of the Furai — I think that will cause the industry to take a look at it again and decide what's next," he says. "It's got this hunkered-down, shrink-wrapped, cut proportion that will always be beautiful. It's great for Mazda that it's back in the conversation. It's great for the industry.
"The industry is a bit stagnant, and we could use more cars like the Furai. We created something beautiful and provocative, but purposeful. It rode that fine line between beauty and in-your-face-ness. The design language doesn't matter when you can get that right."
Follow the link below for more!
[Via Road & Track]