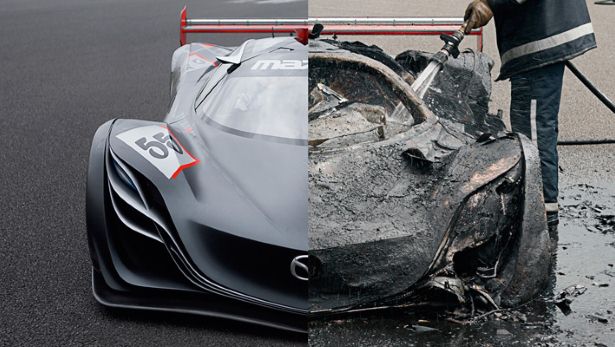 It almost goes without saying that the Mazda Furai is one of the most insane concept racing cars ever produced. First released in late 2007, the Mazda Furai was the last of the Mazda Nagare line of concept cars.
Under the hood, the Mazda Furai features a 3 rotor engine producing a total of 450hp which is mated to an X-trac 6-speed semi-automatic transmission. Ever since its debut, the Furai has appeared all around the world but unfortunately its days of trekking around the world are over.
While testing some of the world's greatest cars as part of the 20th anniversary edition of Top Gear Magazine, the Mazda Furai Top Gear was driving suddenly burst into fire and before long was completely destroyed!
Top Gear said, "Forgive us, for we have sinned. Top Gear is responsible for the untimely demise of the quite remarkable Mazda Furai Concept, and we're very, very sorry. Find out how (if that picture hasn't clued you in…) in our bumper anniversary issue, and try not to hate us too much."